Costa Rica, XVII Festival Internacional de Guitarra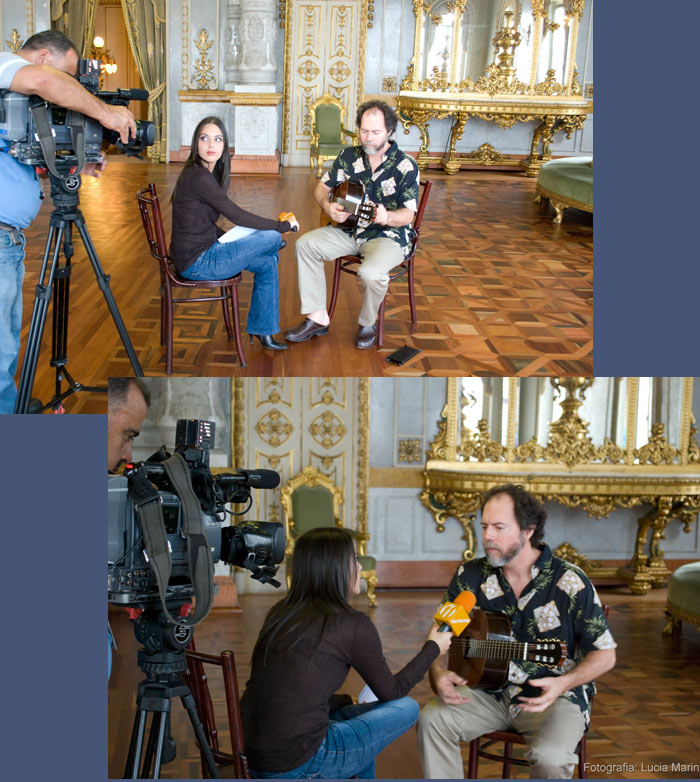 Costa Rica has a very cool festival run by Luis Zumbado. Concerts featured artists from Costa Rica, Cuba, Argentina, Germany, France, and the U.S. I did a TV interview for the festival, here I am doing my best to do the interview in Spanish. Check out the incredibly ornate room, which is in the same building as the historic concert hall, the Teatro Nacional.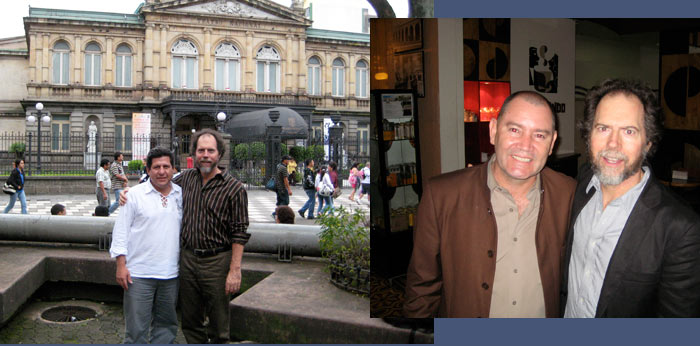 Luis Zumbado, on the left, is the director of the festival. He's an extremely nice cat, great to hang with. We're standing in front of the Teatro Nacional in downtown San Jose where all the concerts took place.
To the right is Fernando Quesada, who keeps the festival running. He also showed me the hip nightlife in San Jose, taking me to great bars and clubs where local people play fantastic music late into the night. Pura vida!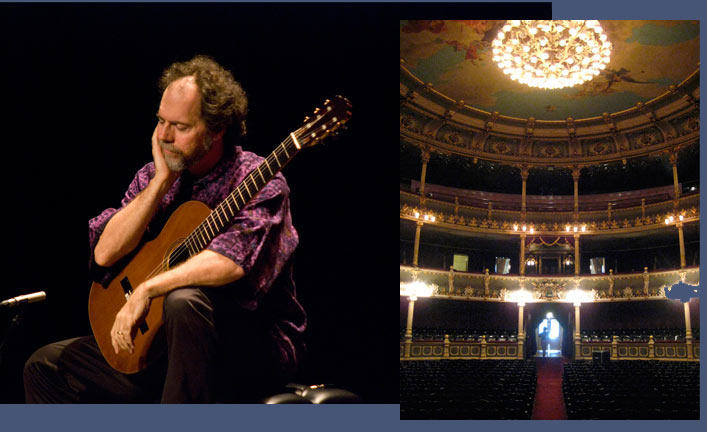 During my concert, who knows what I was thinking at this moment. Here's an interior view of the beautiful concert hall. Backstage was a photo of Segovia playing in the same hall in the 1930's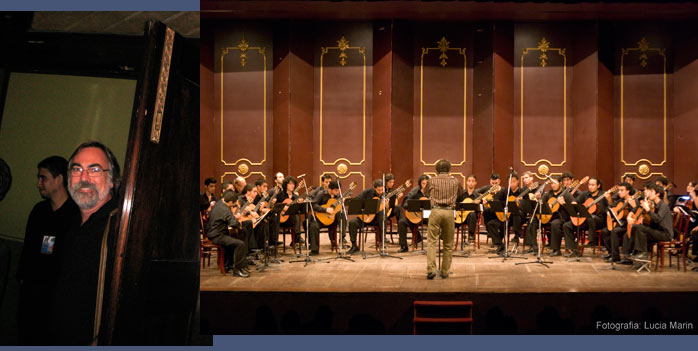 Wildman Sam Dorsey is responsible for for my invitation to this festival. His large ensemble played my composition "Ask the Sphinx" (which was written for Sam and the Tidewater Guitar Orchestra) in Costa Rica years back. This time it was played again by two ensembles together at the same time. Onstage is the University of Costa Rica ensemble, joined by the Tidewater Guitar Orchestra from Norfolk Virginia. I was asked to conduct the piece for the evening concert (see video below).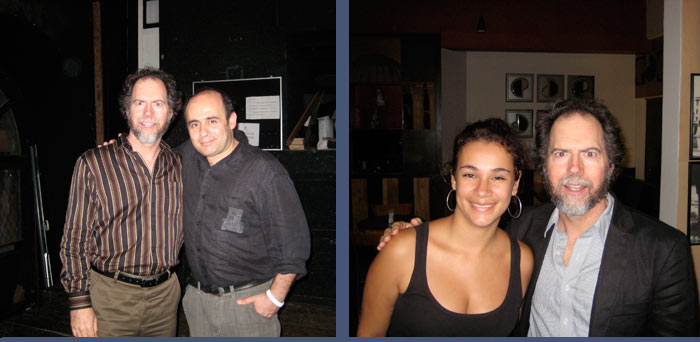 Diego Jasca, an Argentinian charango player who now lives in Germany, stunned everyone with his fluid and beautiful playing. His concert was magic, one of the most beautiful sounds I've heard in a long time.
To the right is Lucia Marin, the festival photographer who captured most of these shots.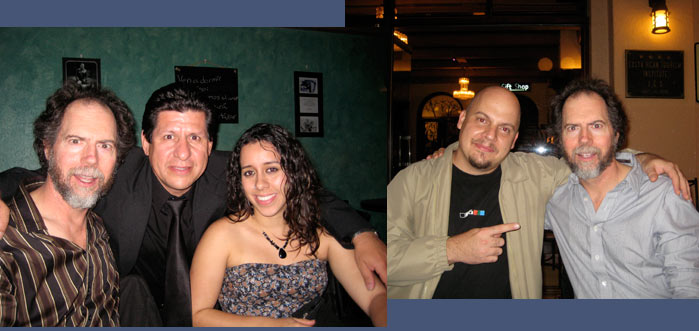 Here is Luis Zumbado and his daughter Veronica during the final dinner and party at the festival's end.
Freddy Pérez from Cuba played a unique concert, his style is really cool and engaging. I loved it.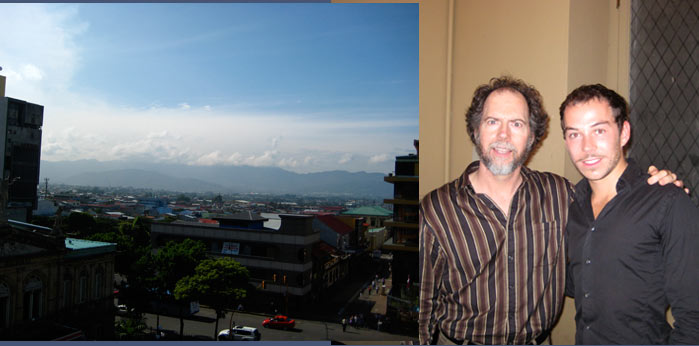 A view from my hotel.
Thibault Cauvin and I shared an evening concert for the festival. Thibault lives in Paris, and plays a specially built electric classical that lets him amplify like a rocker.


video of Andrew York conducting "Ask the Sphinx", Costa Rica

Here I am conducting my composition "Ask the Sphinx" for guitar orchestra. This orchestra is a combination of two different ensembles - the University of Costa Rica Guitar Ensemble (directed by Luis Zumbado) and the Tidewater Gutiar Orchestra from Norfolk Virginia (directed by Sam Dorsey).

---
Dublin Ireland, Walton's Guitar Festival

Michael and Alec O'Leary brought me to Dublin for the Walton's Guitar Festival. Michael and Alec run the festival, and they are also master luthiers, making very fine and sought-after guitars. Above to the right are Simon, who helps run the festival, and Michael. Below to the left is Alec about to enjoy a Guinness, and to the right are Paul and his son Ben, who also work with Michael and Alec for the festival.



It's true - the Guinness tastes better in Ireland, where it is an elixir of life.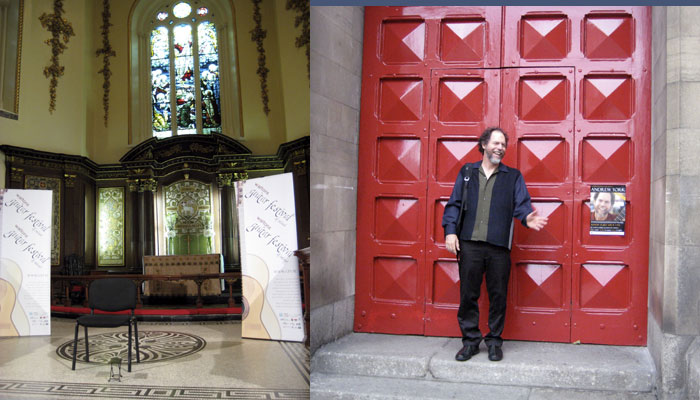 Beautiful church venue, a view from inside and out.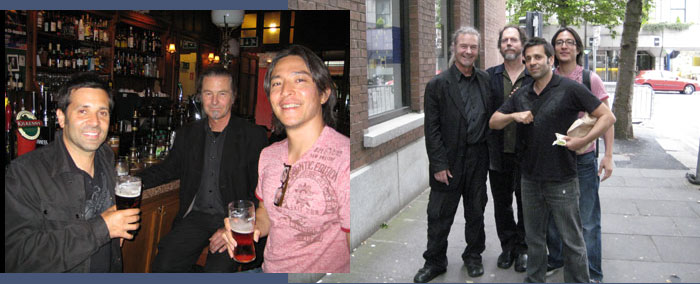 Some of my good friends came to Dublin to hang out. Guitarists all, they are Joe LoPiccolo from L.A., Tim Royal from Bristol and Ray Sandoval, currently in London. They also were my bodyguard contingent. With an Italian, Englishman and Japanese, I felt as if I was protected by the Sicilian Mafia, British Mafia and Yakuza all at the same time. So I felt very safe.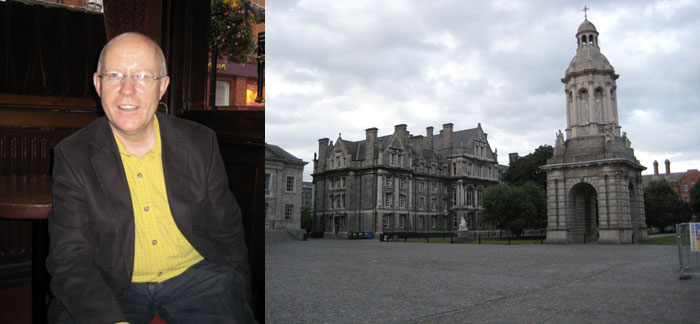 This is John Feeley, professor of guitar at DIT College of Music in Dublin. He gave a fine concert in Trinity College for the festival.
---
---
Belgium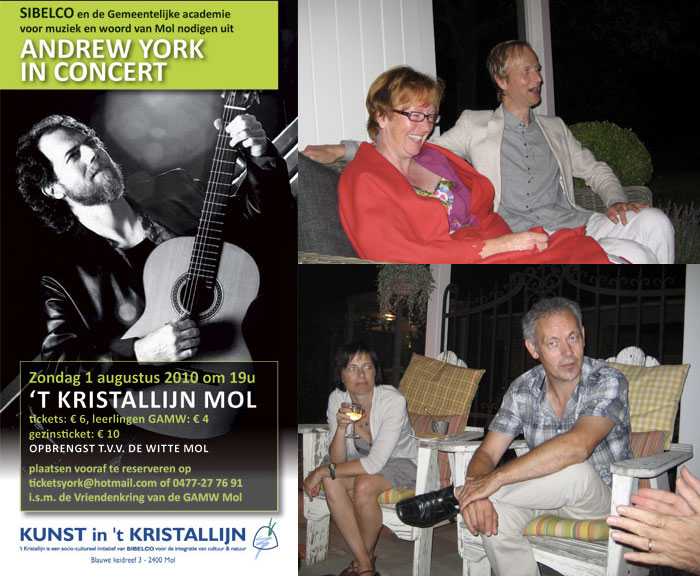 I was invited to play in Flanders, Belgium by a lovely group of people. Four of them are guitar teachers at the Municipal Music School of Mol in Flanders. Veerle, Greta, Christine and Jan teach there, and recently had a concert by their students in which they played only my music. They sent me a very kind letter about the event, signed by all of the students. Cut forward a few months, I mentioned that I would be nearby in Europe with some free days, and they offered to present a special concert for me to perform in Mol. They did a splendid job, everything went perfectly and the concert sold out well in advance. The photo above shows Christine, Jan and Greta, three of the teachers, and Christine's husband (also named Jan).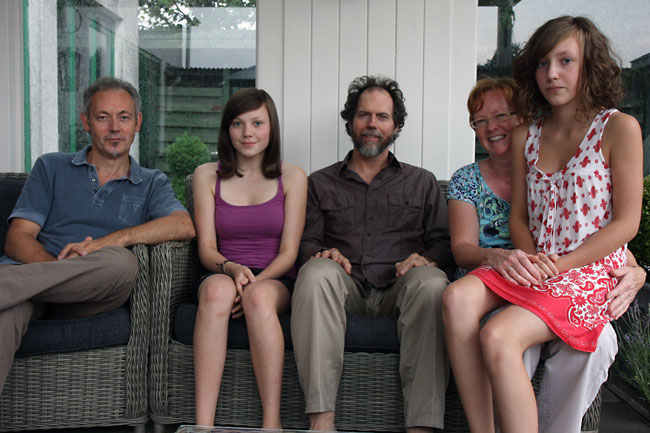 Jan and Christine here with their daughters. The whole family showed me bountiful hospitality. They even took me for a walk in the Sahara! That is actually a sandy region surrounding a flooded quarry that is now a lake - I found it fascinating.



The venue for the concert was in an exquisite location. Right on a lake, with a beautiful view from the hall.
---
---
Brno, Czech Republic 2010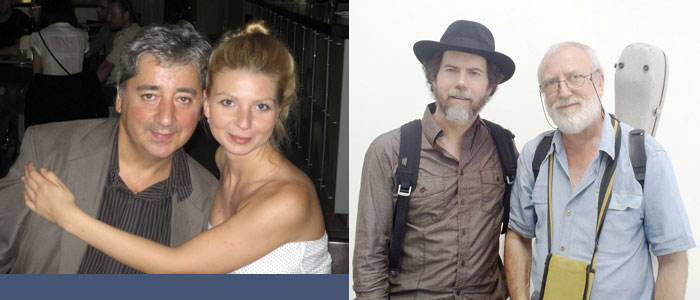 Brno International Guitar festival, run by Vladislav Blaha and Katarina Grenová (left). I love visiting Brno, it is a charming and beautiful city. This year had an interesting mix of artists and teachers from all over the world. Stepán Rak (right photo) played a diverse and deep concert, not only on solo guitar, but also guitar quartet and multi-media. His compositions were varied, intense and compelling. It was also Stepan's birthday, and a guitar-shaped cake was brought out on stage for him after the concert.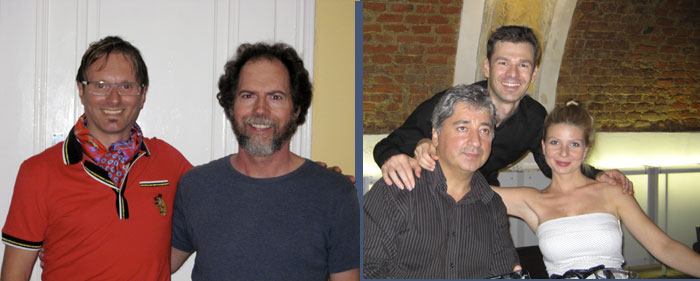 Some notable Italians were in Brno at the festival. On the left is Nicola Giuliani, the direct descendant of Mauro Giuliani. He gave a lecture and had letters and manuscripts written by Mauro for everyone to see. What a thrill to experience such a direct line back to one of the guitar's great composers.
Also at the festival was Andrea Vettoretti, who is the artistic director of the Treviso Festival in Italy. In his evening concert, Andrea played an atmospheric piece written for him by Simone Innarelli, Ritorno sulla via del Caffe.


The ceiling of the new city hall, which hosted most of the evening concerts. It is the 'new' city hall because it is only 500 years old. I think the old one is 700 years old or so. I gave the closing concert of the festival, and it is an incredible feeling to play in such a beautiful hall.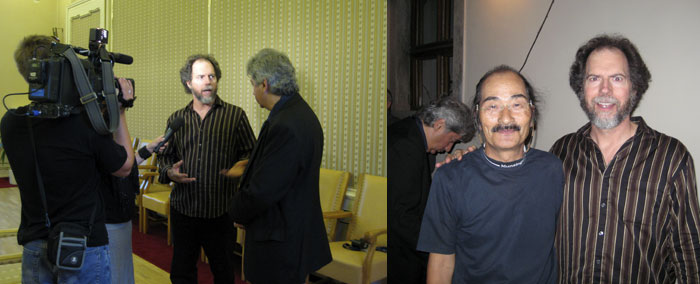 I was interviewed by a TV news crew for Czech television. Here I am talking to Vladislav, who translated my answers into Czech. (See below for video)
The great guitar builder Masaki Sakurai was there. I hadn't seen him or his wife for many years, and it was wonderful to talk to them again. Sakurai-san gave a guitar to the festival as a first-place prize to the winner of the guitar competition.


Ernesto Tamayo and his wife Fenanda. Such good people! On the last night, both Ernesto and I gave each other a gift - and both gifts were cuban cigars! Here we are enjoying a smoke in the courtyard of the old city hall, moments before an impressive thunderstorm let loose.

Czech TV news feature, video

I was featured on Czech TV news, which aired for over three million viewers. Here is the video.
---
---
Hersbruck, Germany 2010

Hersbruck Germany has an excellent festival run by Johannes Tonio Kreusch (left photo). What I admire about Johannes and his festival is that he is a fine composer and improviser, and his festival is multi-style, not only classical.
In the right photo are my managers in Germany, Annette Köhler and Klaus Schanz. It was wonderful to see them, and share some wine and conversation after hours.



The venue for our concert was hip industrial - a wine-bottling plant! Behind the stage structure you can see stacked cases of wine, making me feel right at home. What an cool and interesting place to make a concert.
In keeping with the multi-style tradition, I played on stage with Jacquez Stotzem and Claus Boesser-Ferrari, two innovative steel-string players. Scott Tennant opened the concert as a special guest, and after Jacquez and Claus played I closed out the concert. Then for an encore we did a crazy version of the classic Summertime together.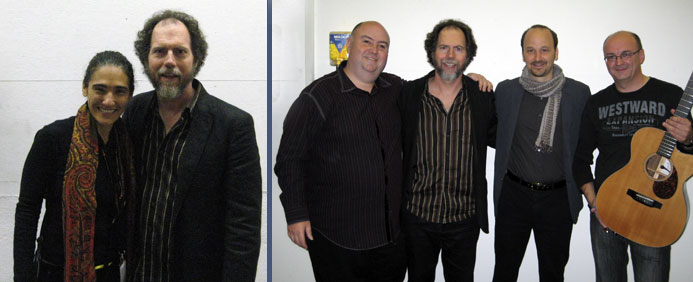 Badi Assad was at the festival too! I didn't get to hear her concert because I left the festival that day, but it was a delight to see her at my show. She is an amazing artist, always stretching the musical boundaries in such individualistic and creative ways.
On the right is Scott Tennant, Johannes Tonio Kreusch, and Jacquez Stotzem after the show.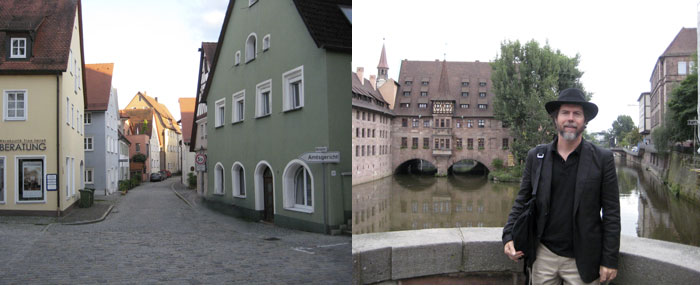 Beautiful part of Germany. On the left is a shot of Hersbruck, a charming medieval town, and Nürnberg on the right.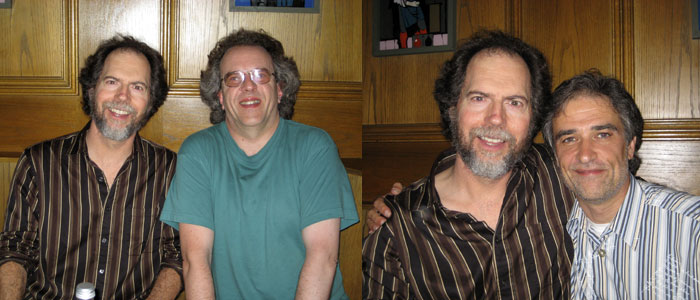 Here is Paul Fowles, long-time journalist for Classical Guitar magazine in England. Paul and I have crossed paths now for twenty years in various cities across the globe.
And on the right is Klaus Schanz, my manager in Germany.

---
---