Blog Page 4 - Ireland, Belgium, Czech Republick 2010, Hersbruck Festival 2010

Blog Page 3 - Beijing, Oberhausen, Centerpeace CD, Spirit Garden with Andy Summers

Blog Page 2 - Czech Republic 2009, Isbin Grammy, Dance Company, Magazine Covers, La Bella, early photos 1

Blog Page1 - Japan, GRAMMY, Soest, Hersbruck 2008, Bermuda, Turkey, Colombia


---
JAPAN - Performances and Recordings of my Music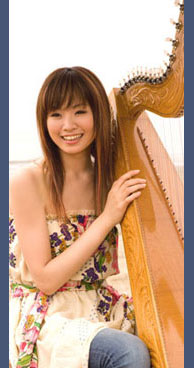 Harpist Mika Agematsu new CD with "Sunburst" and "Waiting for Dawn"
In July, the Japanese harpist Mika Agematsu released her CD "Cavatina" which has Sunburst (with the Introduction) as the opening track. Mika also recorded "Waiting for Dawn", a simple but beautiful folk-based piece I wrote many years ago. Mika's playing is incredibly engaging. The tone of the harp is always a spiritual sound for me, but her tone is transcendent. Hearing my pieces on harp, so beautifully played, is delightful. "Cavatina" is released by Universal Music.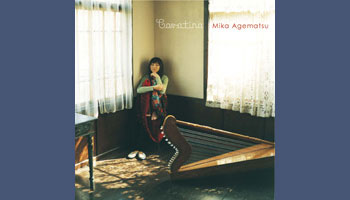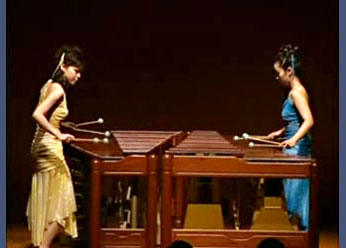 Acomarimba plays "Sanzen-in"
About ten years ago, I wrote a two-guitar duet for Dai Kimura called "Sanzen-in", which we recorded on one of Dai's Sony Japan releases. I named it for the thousand year old temple in Kyoto of the same name, after a visit there. There is something about a garden that has been there for a thousand years - so many generations tending it over a millenium, it can't help but be a profound place, if one is receptive to it.

Acomarimba, a two-woman marimba duo, performed Sanzen-in on two Marimbas. It is a wonderful sound - here is a link to see them and hear them on youtube. Acomarimba plays Sanzen-in



"California Breeze" CD with Dai Kimura
Dai Kimura and I recorded a CD of entirely my music for Sony Japan, called "California Breeze". We did the tracking in Los Angeles at Firehouse Studios, and my friends Tim Timmermans and Larry Steen played percussion and bass.
While in Los Angeles, Sony filmed a music video of us in Malibu. We shot it to the title track, which has a charismatic melody and is a real band piece. For me it was fun to do some single-line improvising, which you just don't get to do in the classical world very often. Here is a link to see the video on youtube: "California Breeze"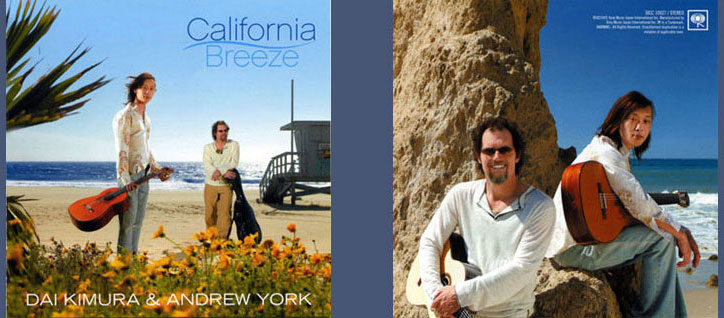 The photo below is a Japanese tour of the CD, which included local percussionist and bassist Yoshiko Kanda and Wataru Suzuki.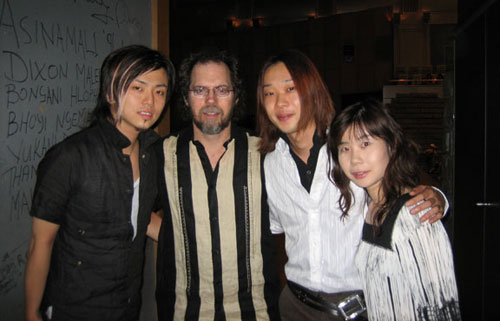 ---


GRAMMY Award
LAGQ was awarded a GRAMMY for Best Classical Crossover Recording for our CD "Guitar Heroes." Here I am in my studio in front of some of my guitars, fondling my GRAMMY. I wrote two compositions for this CD - "Pop", which was dedicated to my father, and is in a Jewish style; and "B&B" for four guitars and upright bass, which is very much in a bluegrass style. I even had the other guys playing with picks on "B&B" to get the right stylistic sound, which is a shock to most classical mind-sets. The two "B's" in "B&B" stand for two of my bluegrass inspirations, Norman Blake and David Bromberg. I got to meet David in Pennsylvania a couple years ago through my old friend Mark Unruh, and we all spent some time playing for each other in David's studio. Being from Virginia, I spent some of my younger years playing bluegrass, and it is still a style I love.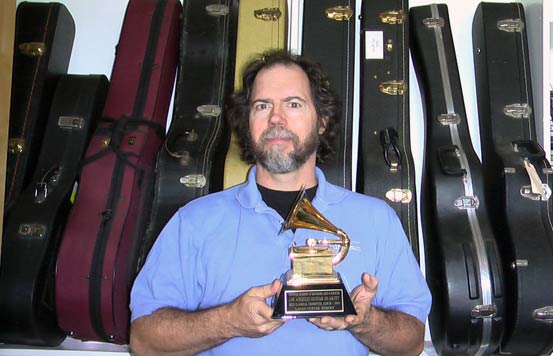 ---
GERMANY, Soest and Hersbruck
In August I went to two places in Germany. First Soest, where my friend Wolfgang Bargel has brought me several times before. I played again at the very hip local performaing arts venue, and then spent a day teaching at the music school where Wolfgang teaches. Both students and faculty played my compositions for me all day long, and I was pleased to hear my music done so well, especially by the faculty there. Left to right are Wolfgang, Jutta, Michael and Stephan, who played my composition "Syzygy" for three guitars and flute. Then Dominik and his wife Ikugo did several of my sacred songs for soprano and guitar, and did them wonderfully.



Here is the whole gang, students and faculty, that played for me in Soest.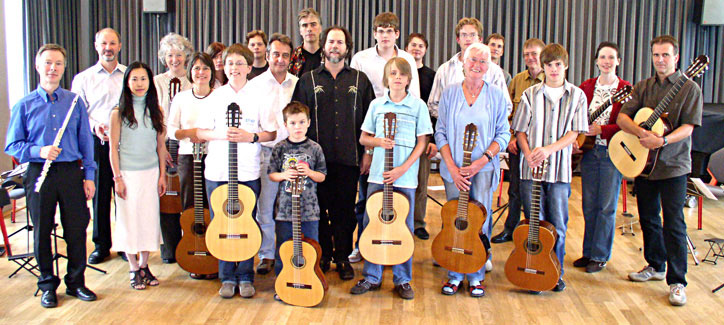 Below are Wolfgang and his wife Karin, who always welcome me into their home like a member of the family. Every visit Wolfgang introduces me to some cool new music, from glass harmonica to Roland Dyens beautiful string arrangements of Fernando Sor pieces.
To the right is a stained-glass rendition of the Last Supper in the Soest Dome. It has to be the only version ever of the Last Supper that has local Soest pumpernickel bread and pork sausages being served. Surreal.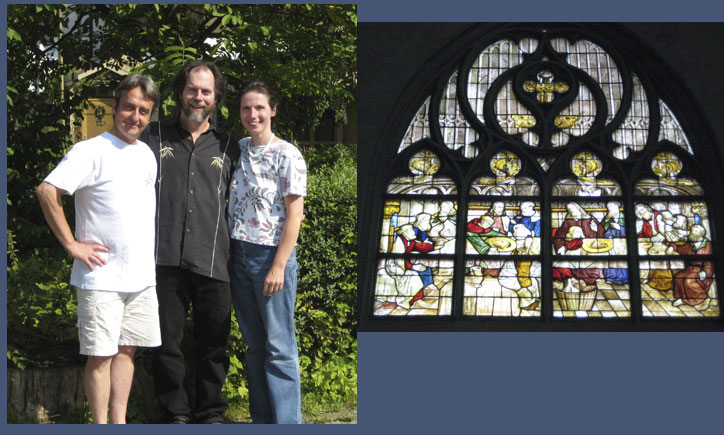 Now to Hersbruck International Guitar Festival, run by the excellent guitarist Johannes Tonio Kreusch. That's him between Scott Tennant and me. Scott and I played some duets together for old-time's sake during his concert. I was happy to play with Scott again after our last tour together a year and a half ago.
Eliot Fisk was there too, and we kept running into each other in the hallways and got to talk a bit. a very interesting cat.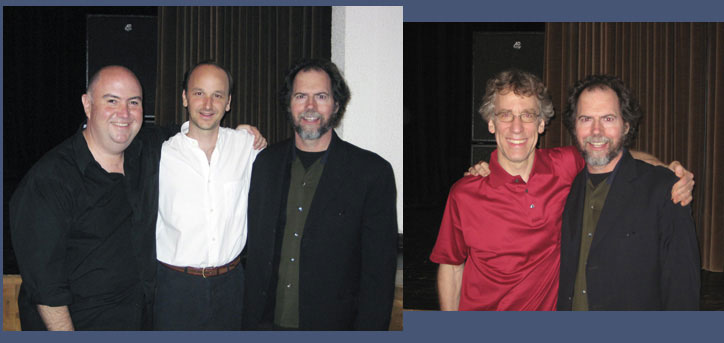 The concert venue in Hersbruck was unique - a vintage car and motorcycle museum. Separated from the audience by a glass wall were extremely rare Bugatti, Maserati and other vintage cars. All are in running condition too.
To the right is Annette, who drove me to my gigs and took good care of me.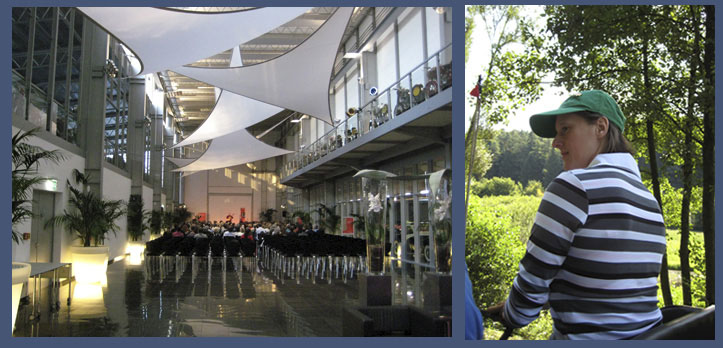 Live in Hersbruck, Germany

Here are three movements of my suite 'Woven Harmony', recorded live in Germany at the Hersbruck International Guitar Festival. The pieces are Squares Suspended, Warp-Aspect 2, and Woven World. There are six movements to the suite, but I only played three here. I wrote this for Robert and Rebecca Bluestone - Robert is a guitarist, Rebecca a weaver, and they tour together blending music and woven artworks. I recently published these pieces, but haven't recorded them yet, so this a live preview of part of this suite.




---
BERMUDA
Ah, Bermuda. One of my favorite places on earth. Steve Crawford (left) brought me out for the second time in May for the Bermuda Guitar Festival. Also featured at the festival was the very fine Brazil Guitar duo with Joao Luiz and Douglas Lora, in the right photo.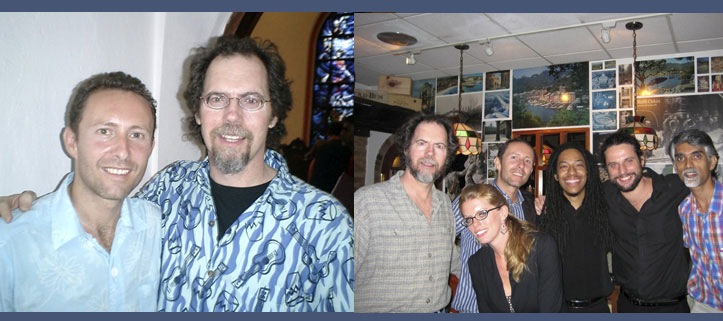 The pink church, St. Andrews, is the venue for the festival. To the right is my friend Mathew Joseph, a doctor and very good songwriter. He is also the composer of the piece "Tribute to Andrew" that was featured in Fingerstyle Guitar Magazine, which was an honor for me.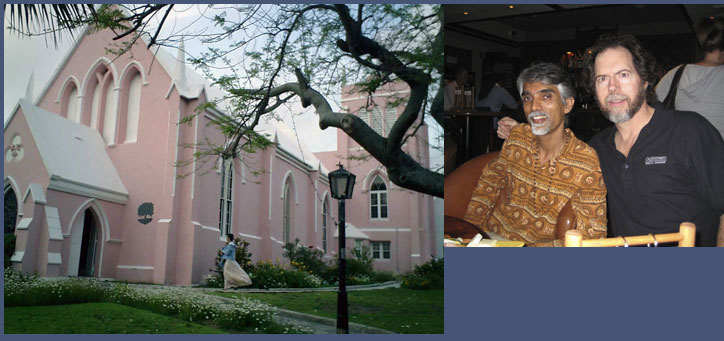 Here is Louise Southwood, after a quick swim. She is a very fine quitarist and co-runner of the Bermuda Guitar Festival with Steve Crawford.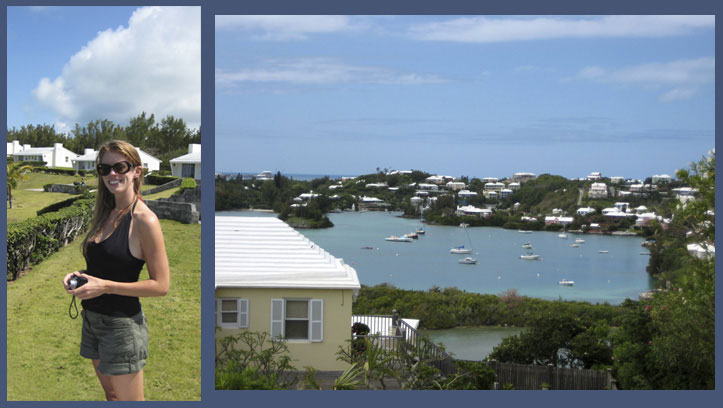 ---
Ankara, Turkey
Serhan G"l brought me to the Middle East Technical University for a concert and masterclass during the International guitar festival there in March 08.


I felt very at home there, and the people treated me like family. Above you see Serhan, Gizem, B"lent, Kadir, and many others. Every night seemed to turn into a Raki party. Raki is reminiscent of Ouzo, and turns white when water is added. Best be careful when drinking that with young Turks.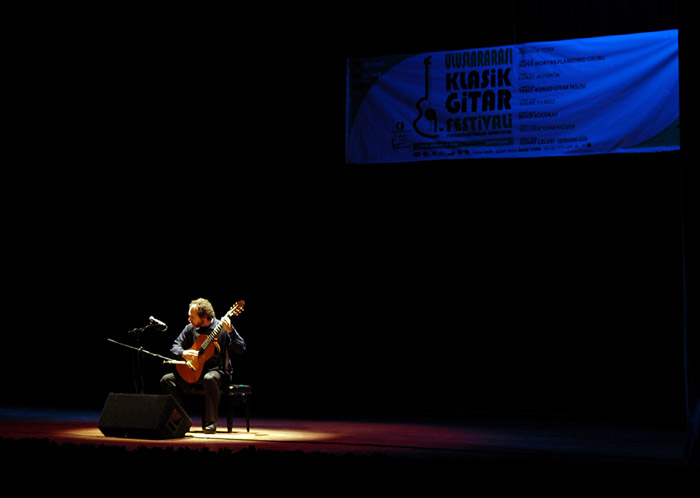 ---
January tour of JAPAN

January tour of JAPAN
I spent a week playing concerts in Tokyo, Hiroshima, Yokohama and Ibaraki. Every night an incredible dinner (there are more three-star Michelin restaurants in Tokyo than in Paris) with my manager Takao and Mitsuko Kado.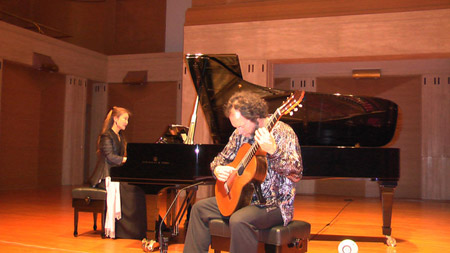 For this Japan tour, I wrote a new piece for guitar and piano based on the famous Japanese traditional melody 'Sakura'. I named it 'Sakura-Six Perspectives' and as the title implies it is six different variations on Sakura. The wonderful pianist Mitsuko Kado premiered it with me in each concert.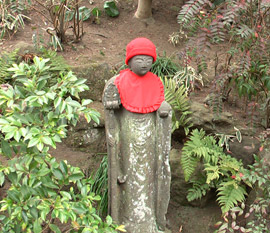 On a day off we got on the bullet train and went to Kamakura to visit temples. A cold day, even the statues were chilly.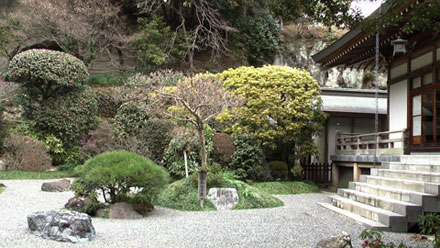 ---
Bogot", Columbia

In November of 07 I found myself in Bogot" for the Festival Internacional Fernando Sor Guitarra Cl"sica. Also performing at the festival were Luis Orlandini, Eduardo Isaac, Ana Vidovic, seen below. Every night our presenters, Edilson and Pilar, took us to a different part of the city for excellent food and wine.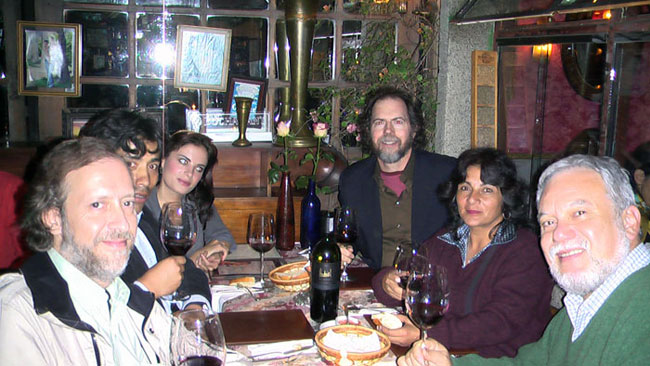 Here is a view of Bogot" at night from the top of Monserrate, a church built on top a cliff overlooking the city. We took a cable car up, which was swaying in the wind and rain. To the right is a soldier patrolling the streets of the city, machine gun at the ready.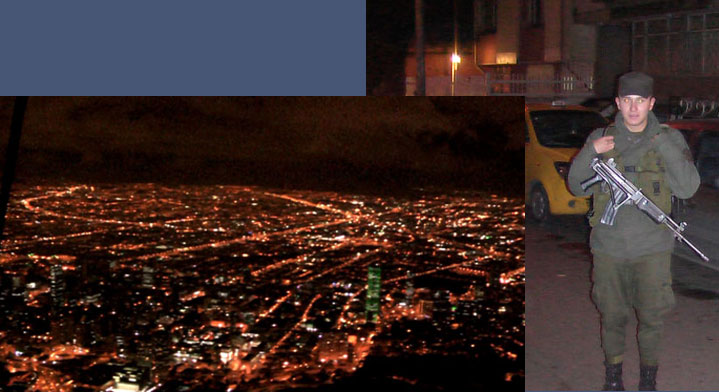 Ana Vidovic played a beautiful concert, and she was also lovely to spend time with. To the right are Edilson and Pilar, the presenters of the festival, y ellos son muy simp"ticos. I met them in New York city at the Mannes College festival, where they began talking to me about coming to Columbia.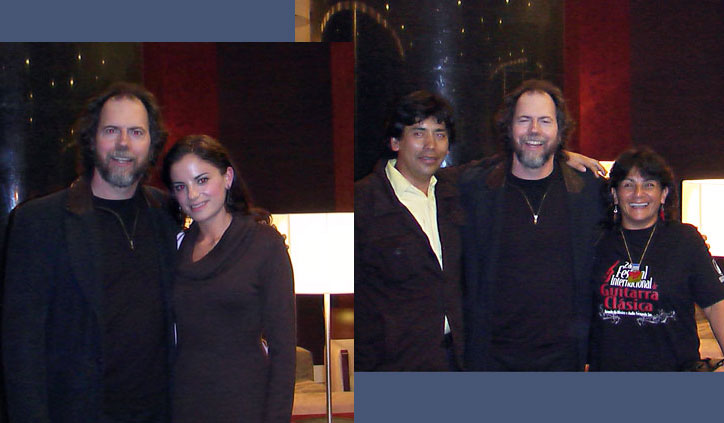 I'm very glad I went there, though I had one of the craziest taxi rides of my life, surpassed only by a 100 mph insane odyssey in Poland, at dawn, in the fog, in a dilapidated van - but that's another story.


---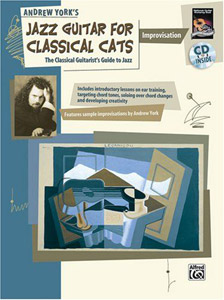 Jazz for Classical Cats - Vol. 3 released

Finally, my latest book (and the completion of the three volume set "Jazz for Classical Cats") is published by Alfred Publications. Volume three covers single line improvisation. It not only goes in-depth with scales, modes and their application, but has exercises to help develop your ear so you can find on the fingerboard the music you hear in your mind.

All the books are tailored for the classical guitarist who is interested in learning how to play jazz. Vol. 1 is an extensive study of Harmony, vol. 2 covers Chord Melody, and vol. 3 Improvisation. Books are 64 pages each, with CD.

---
Blog Page 4 - Ireland, Belgium, Czech Republick 2010, Hersbruck Festival 2010

Blog Page 3 - Beijing, Oberhausen, Centerpeace CD, Spirit Garden with Andy Summers

Blog Page 2 - Czech Republic 2009, Isbin Grammy, Dance Company, Magazine Covers, La Bella, early photos 1

Blog Page1 - Japan, GRAMMY, Soest, Hersbruck 2008, Bermuda, Turkey, Colombia


---