LAGQ - Los Angeles Guitar Quartet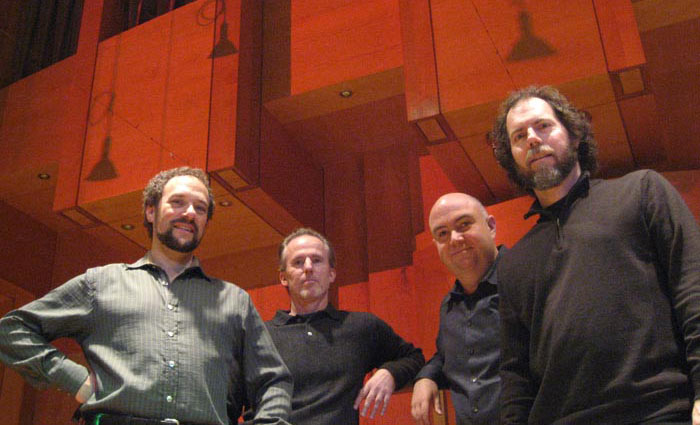 This page is about my twenty years with the LAGQ, or the Los Angeles Guitar Quartet. During my tenure with the group we won a GRAMMY and were twice nominated, we garnered recording contracts with major record labels Sony and Telarc, and we toured together five months of the year. (More touring was certainly possible, but we each had our solo and personal projects going as well). Since my departure in 2006 there is a lack of information about the actual history of the group, so I am including a few of my photos and recollections of my time as a member of the LAGQ.
The group was started at the University of Southern California in 1980. The original members were Anisa Angarola, John Dearman, Bill Kanengiser, and Scott Tennant. All were students of USC at the time. The first recording made by the group was a vinyl LP of very limited distribution. Here it is, showing the members from the early 1980's.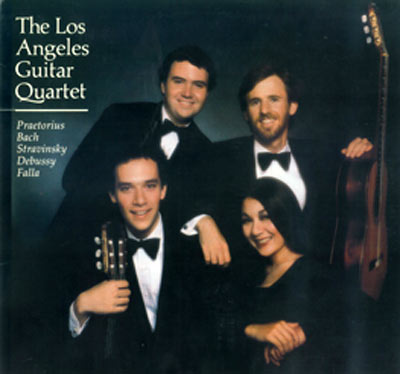 I came to Los Angeles in 1983 to get my masters degree from USC, and became friends with John, Scott and Bill. Scott and I played lute together in the early music ensemble at USC, and John and I hung out together quite a bit, talking about music.
In 1986 I left Los Angeles to go to Europe for three months. There, in Cordoba, I met John Williams, and through this meeting he ending up recording and touring my compositions "Sunburst" and "Lullaby". But that is another story. After Europe, I had no real intention of returning to Los Angeles, but I got a phone call from Bill. The group had received a contract to do dozens of school concerts in and around Los Angeles, mainly for elementary school children. Anisa Angarola, the original member, was not going to do them, Bill told me. Would I like to do all these shows with the group? I thought, "Why not?" I knew and liked the guys and respected their abilities very much, so I returned to L.A. and we began rehearsing a show for school children.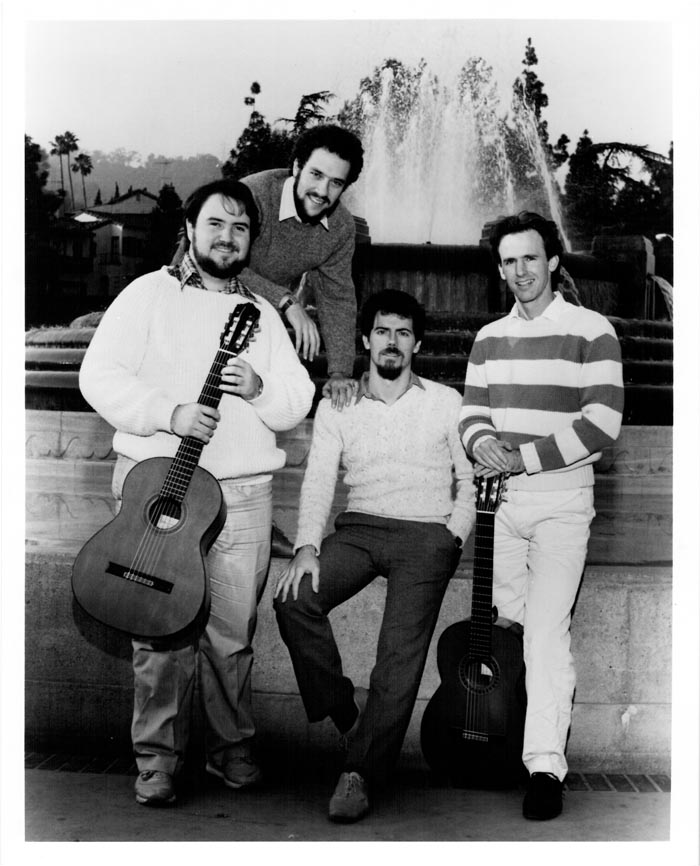 We needed a photo, so here we are in 1986, standing by the fountain at the corner of Los Feliz Blvd. and Riverside Drive, near the entrance to Griffith Park in Los Angeles.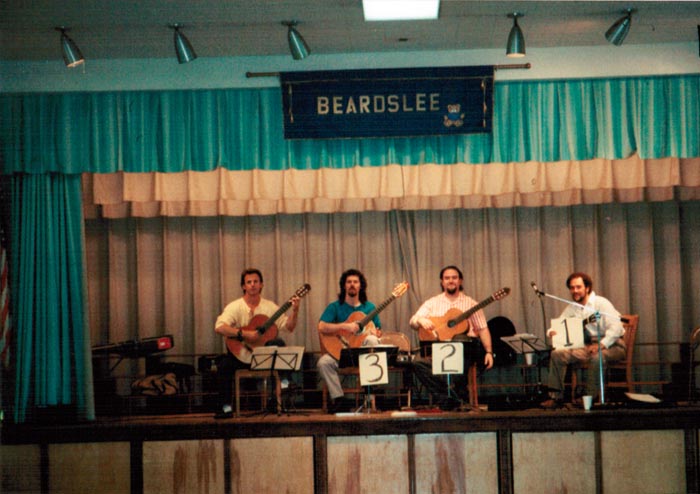 We put together many descriptive techniques to teach the children something about music. I remember we built a musical taco out of the different parts of La Bamba (I'm not kidding) and played Telemann while raising and lowering our heads with the entrance of each of our lines. Notice the number placards on the music stands, which we used in pieces for educational musical shtick.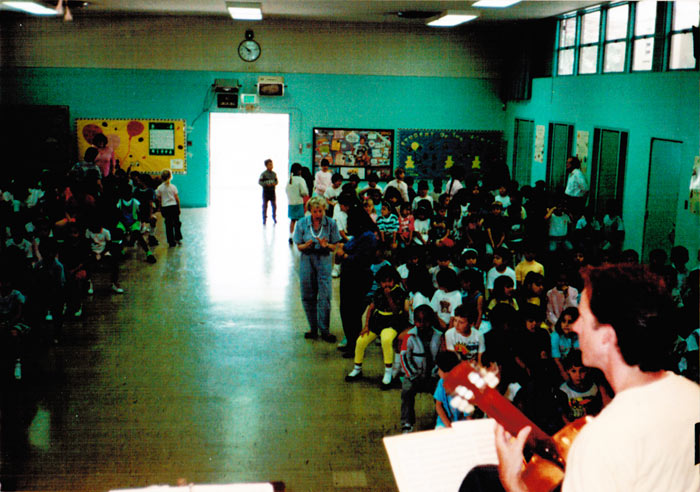 A stage eye view of our early concerts for the munchkin set. We did more of these concerts than I can count between 1986 and 1989. A hundred? I don't know. All I know is we all got really tired of building that taco. But playing for children in that age group is a magical experience. They are open to everything and still un-selfconscious enough to genuinely respond to the music, and absorb it.
Anisa Angarola continued to be the official LAGQ member, and to play the concert tours. But by 1989, it was clear that personal and professional differences were driving Anisa and the other members in different directions. In 1989 I was asked to if I would learn all the music for a tour of Europe, because Anisa was having a hand problem of some sort. But if she got better, I wouldn't do the tour. I said no to this; I wasn't going to do so much rehearsing unless I was going to really do the tour. So they asked Mike McCormick, a fine player and friend of the group, to take on the task. He was willing, and as things turned out, he ended up doing the tour as a sub for Anisa.
Cut forward one year later - it's 1990 and I am asked the same question again, but this time I will do the tour for sure. I agree to do it, we rehearse like crazy, and we do a winter tour together at the end of 1990. I remember we played El Amor Brujo by Manuel de Falla, and a piece written for LAGQ by Carlo Domeniconi, based on Turkish themes. By the end of the tour, the musical chemistry between us was undeniable, and the guys asked me to join the group. This was a momentous decision for them, and for me, to make.
Now, I was flattered to be asked but unsure about joining, for two reasons. First, my wife and I had decided to move to London, and we already had a flat there. This, obviously, would complicate things immensely being thousands of miles away. Second, my musical background was very eclectic. Though I had studied classical guitar since I was eight years old, and was comfortable with this medium, I was also a very immersed into jazz. In fact, at USC I had studied with Joe Diorio and Lenny Breau, and was still very influenced by my jazz studies. Also, I was deeply into improvisation and composition, and while my compositions would ultimately play a signature role with the group, improvisation could not be a functional part of this ensemble. Playing with LAGQ, though very challenging, seemed like it would not employ large areas of my musical abilities. But for now, I thought about it, conferred with my wife, and decided to join. Then we moved to London.
---
Brussels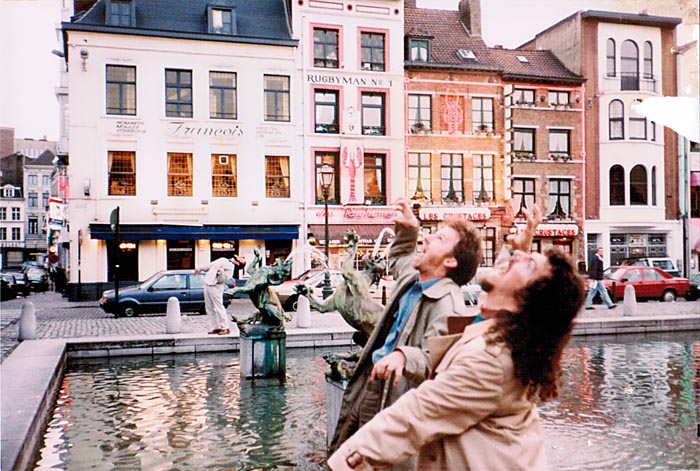 Now that I was living in London, the boys would fax music to me to learn, and then we would meet a couple of days early to rehearse at the start of a tour. In 1991, we had our first tour together in Europe. The boys flew from L.A., and I flew from London, and we met up in Brussels, where this photo was taken.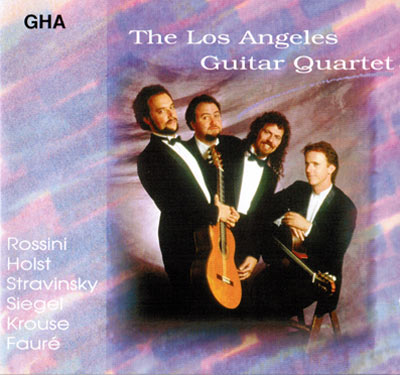 During one of our 1991 tours, we recorded our first CD together for GHA, a small guitar label based in Brussels. It shows the fairly conservative mien of the group at that time - we are all wearing tuxedos. Our aesthetic then was less eclectic then the musical freedom we came to represent later.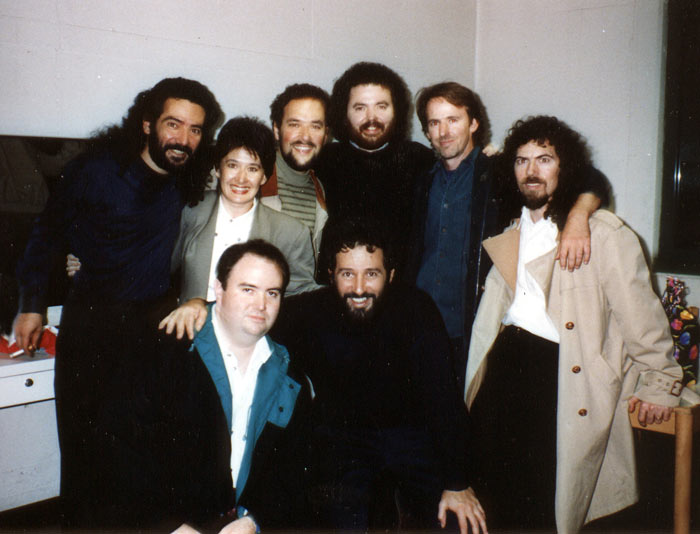 Mettmann Germany, shown here are Sergio and Odair Assad, Fa Deni-Assad, Odair's wife and the owner of GHA records, and Manuel Barrueco.


I'm not sure where this photo was taken. I think maybe Spain, Scott guesses Germany. But that is David Russell with us.
---
Istanbul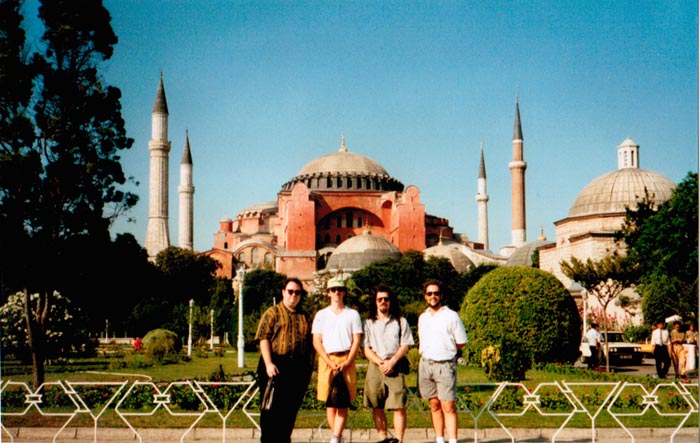 In 1991 we went to Istanbul for the first time. A nice tourist shot here. Love the shorts.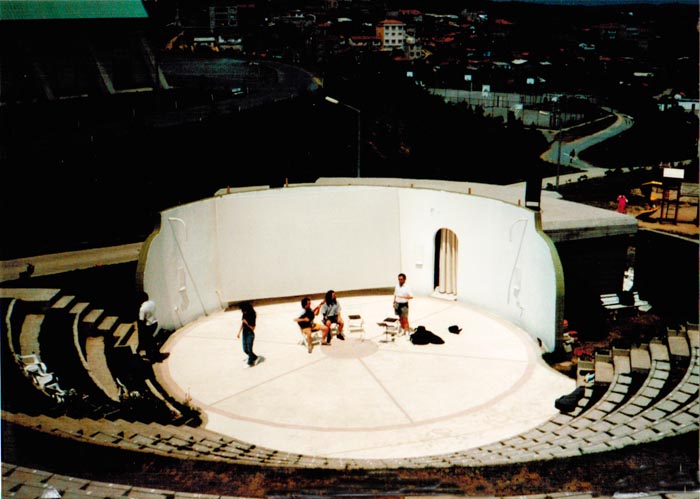 In Istanbul we played at an outdoor venue. The history in this part of the world is overwhelming. After Rome fell and the Roman Empire collaped, Istanbul (then Constantinople) was the center for the Eastern Roman Empire for another thousand years until its fall in 1453.


Cannes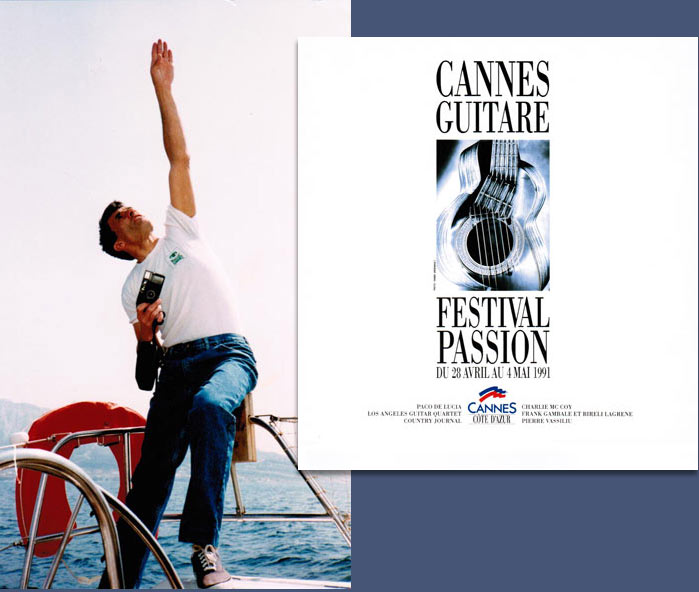 This is Bernard Maillot, president of Savarez Strings and a good friend to all of us. He took us out on his boat in the Mediterranean off the south coast of France, when we played at the Cannes festival in 1991.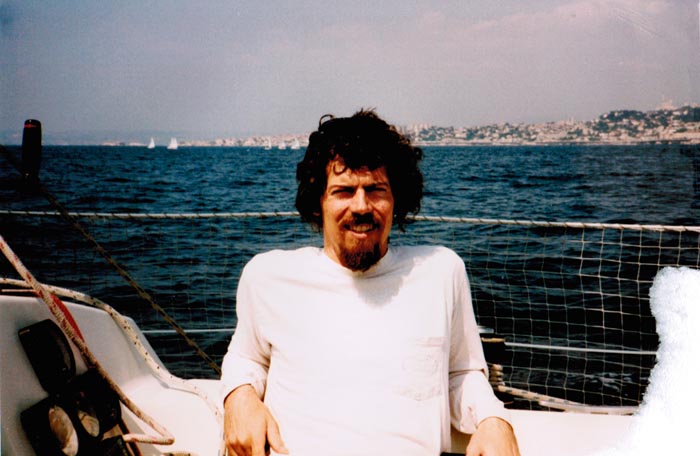 Enjoying the ride in Bernard's boat.
---
Munich

In 1992 we began a relationship with Wolf Siegel in Munich. He brought the group many times to Munich where we played in the Hochschule. It is a beautiful hall, and I have many good memories of playing there. Our relationship with Wolf continued for more than a decade, and one of our last concerts together was there in 2006. Here we are in Opatija, a Greek restaurant Wolf always took us to after our concert.


Berlin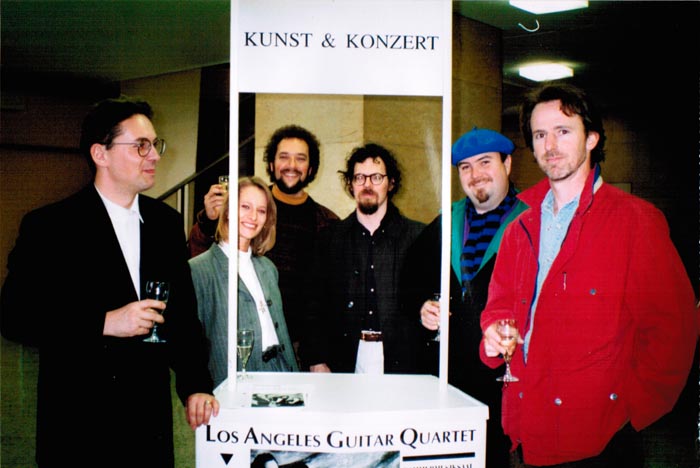 Early in the 90's we were presented in Berlin by Wolfram Shulze (later he changed his name to Wolfram Arton). Over the years we did a number of concerts in Berlin at the Philharmonie, a concert hall with seats stretching all the way around a center stage. Wolfram would meet us at the airport with champagne (or maybe it was sekt) to welcome us to Berlin.
We were in Berlin the first time just after the Berlin wall had come down. There were still huge tracts of it standing just off the roadsides. I remember walking to the wall and trying to chip off a bit for a souvenir. It wasn't easy; I ended up swinging huge chunks of concrete against it to try and strike off a small piece. That was one tough wall.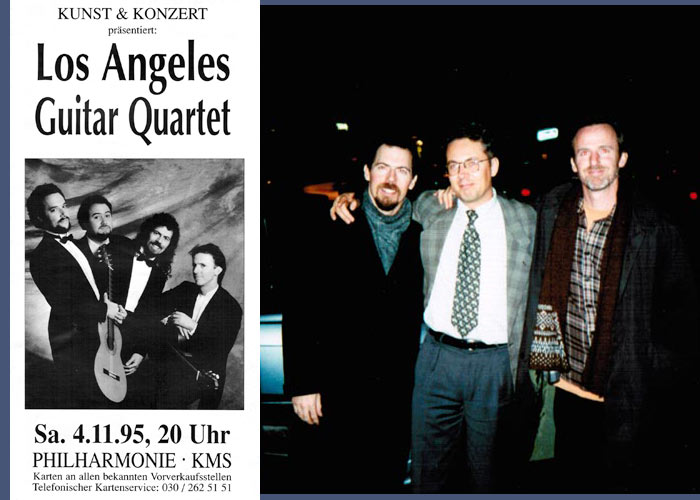 John and I with Wolfram.
---
Record Labels and Recording History

After doing one CD for GHA, a small Belgian label, we were offered a recording contract in 1992 with Delos International. This was a big step up for us; Delos was respected for the quality of its projects. However, Delos was also infamous for not paying royalties. We went into this deal with eyes open, knowing that, besides the advances, we probably wouldn't be paid. But the positive aspects outweighed the negative - our visibility increased greatly and we did four high-quality projects through Delos. It was a wise career move.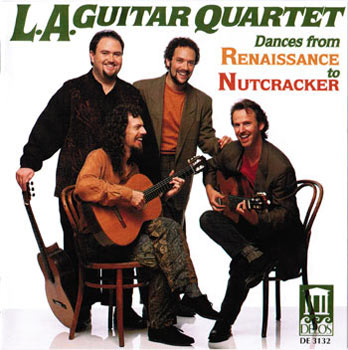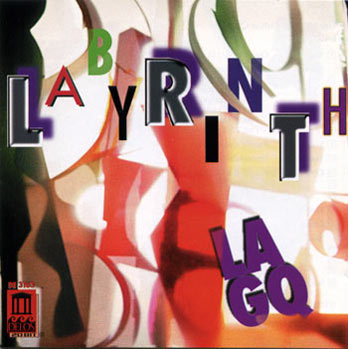 The first, recorded in 1992, was "Dances from Renaissance to Nutcracker". It remains one of my favorite CDs of the group to this day. Some of our later CDs I found unsatisfying programatically. Such is the reality of making artistic decision by committee. But this recording is elegant and crisp. It features my arrangement of the entire Nutcracker Suite by Tchaikovsky, as well as John's arrangement of a Praetorius dance suite, and Bill's arrangement of four pieces by Giovanni Gabrieli. We were recording it in downtown Los Angeles during the L.A. riots, if you are old enough to remember them. In fact, one night we had to flee the church where we were recording, because rioters were coming down the streets toward us, burning as they went.
Labyrinth was potentially one of the most interesting CDs we had conceived. Unfortunately, the mix of music was too eclectic and did not blend well, making for a scattered listening experience, even though there was some very creative music on this disc by a number of excellent composers.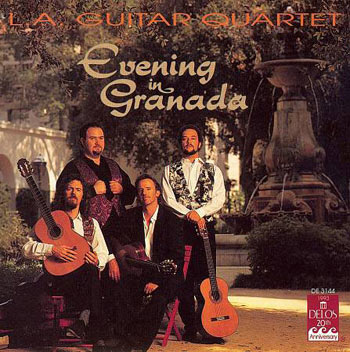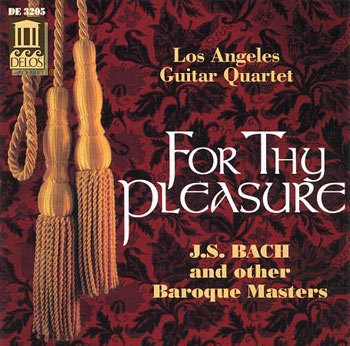 Our next two releases on Delos in the mid-90's. The photo for "Evening in Granada" was taken in the garden behind Pasadena city hall.
"For Thy Pleasure" contained our very popular shtick on Pachelbel's canon. The seeds of this were planted in 1986 during our school concerts, and took about ten years to germinate.
After we had left Delos, they released "The Best of LAGQ" without our permission, cleverly using only public domain works to avoid any mechanical royalty issues, but nevertheless neglecting to tell us it was being released. Not legal, but we worked it out with Delos without fisticuffs.
---
Sony

Around 1996 we shot our first video. We worked with Sim Sadler, a very hip film-maker who shot it on film (as opposed to tape in those days, this is pre-digital). It focused on three pieces, each with a different filmic approach, and it was cool and funny. John was very involved in the editing process. It came out so well, I believe this is what made Sony notice us out of the veritable sea of other acts vying for a major record deal with them.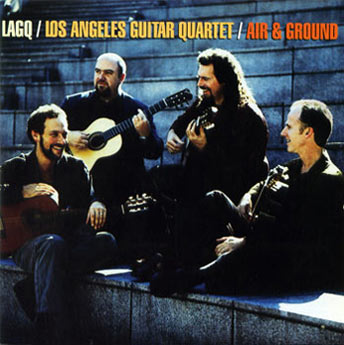 We recorded our first Sony release at Ocean Way, the historic studio in Hollywood where Frank Sinatra made some of his recordings. Our first dates there were pre-empted by the Rolling Stones, who had blocked out the entire studio. So we rescheduled a bit later, and recorded "LAGQ" there. The cover and inside photos of LAGQ were shot at a Frank Lloyd Wright house in the Los Feliz area of Los Angeles.
It was produced by Grace Row, a producer for Sony. Grace told me in the studio that it was my compositions that made Sony sign the group, a fact of which I am proud. The recording itself had some sonic challenges, however. Even though we were marketed as a classical crossover group, Grace preferred a very traditional and distant way of miking the band, making us sound much less dynamic, and with much less bass presence. I discussed this with her at length, and persuaded her to do some close miking as well to give a bigger, more powerful sound. But, when we listened back to our takes in the control room, we couldn't agree on what was best. I would push up the faders for the close mics, and the sound was huge, rock and roll. The guitars sounded ten feet tall and beautiful. But Grace said, "no complexity there. Listen to this!" And she would push up the room mic faders she preferred, but to me they sounded distant and small. Well, as producer, she had the final say, so the Sony records sound . . . less than they could been. I enjoyed working with Grace though, she was a fine producer with a good musical ear, and an easygoing cool demeanor which made the tracking pleasant and productive.
Telarc

After recording two discs with Sony, our contract was not renewed. Sony with Peter Gelb at the helm (he was former director of Sony worldwide) was a company in constant upheaval. It wasn't uncommon to call the offices in New York, and find that everyone you knew had been fired, and there was a new team. Not a relaxed atmostphere. But Telarc was immediately interested in the band, and we signed with them. This was to prove to be a fruitful relationship for us.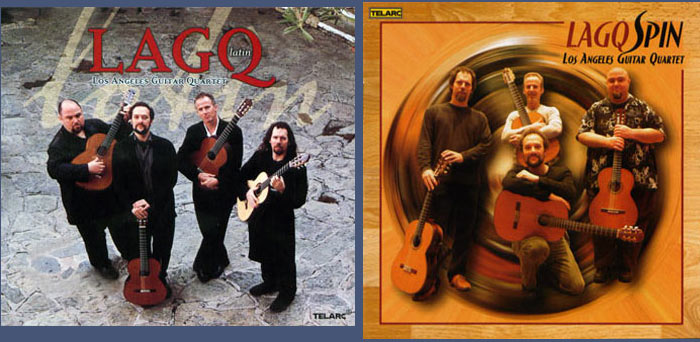 Bob Woods produced our Telarc recordings when I was with the band. He had a strong jazz background, producing Oscar Peterson and other jazz greats. Bob had a way of keeping us focused on the music and not getting lost in the technique and execution, as we had a tendency to do in the studio. He forced us to be and sound authentic, and kept us on a musical track. I respect him very much for this.
Our debut CD for Telarc, "LAGQ-Latin" received a 2002 GRAMMY nomination.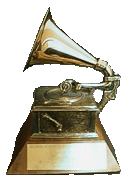 In 2004 we got another GRAMMY nomination, this time in the category of "Best Classical Crossover Recording" for our CD "Guitar Heroes". Interestingly, after the nomination the Academy rejected our CD as 'not classical enough' in the nominated category. Bill wrote a very detailed and cogent letter, giving examples of the compositional complexity of each piece, thus persuading the academy to reinstate our CD. And, we won a GRAMMY for it after all of that.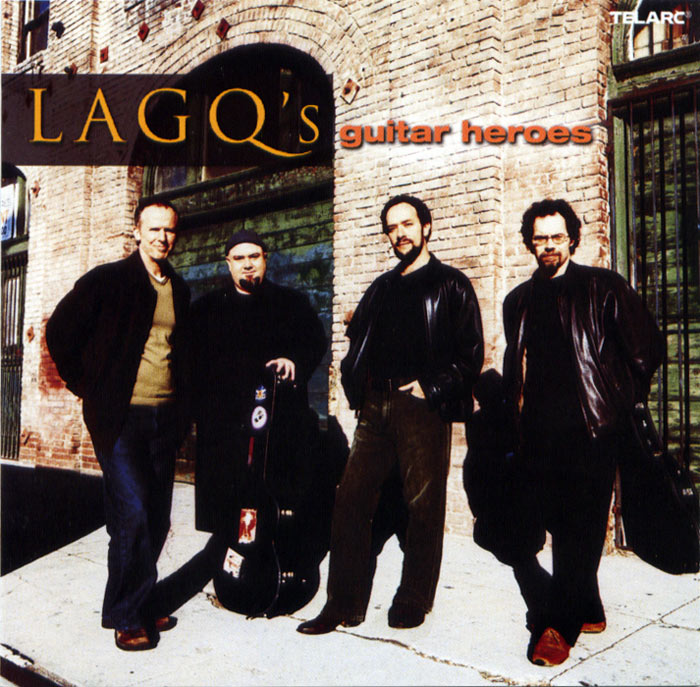 The night that the GRAMMY winners were announced, we couldn't be at the awards. We were playing somewhere in the south, in a dry county (which means prohibition is still in effect there, so selling alcohol is illegal. How archaic). We had to actually drive across the county line after our concert to find an Italian restaurant where we could get a glass of wine. While waiting at the bar for our table, we were wandering in and out, calling on our cell phones to try and find out the results. I remember seeing Bill come into the restaurant, and I could tell by his face that we had won, even from across the crowded room. He didn't tell the others until twenty minutes later when we were at our table, and able to toast our success. Later we each got one of those great little statues to put on our respective shelves at home.

---
Magazine Covers

Here are few magazines that featured us on the covers throughout the years. Three editions of Gendai Guitar in Japan, Fingerstyle Guitar, Acoustic Guitar, and Swiat Gitary from Poland.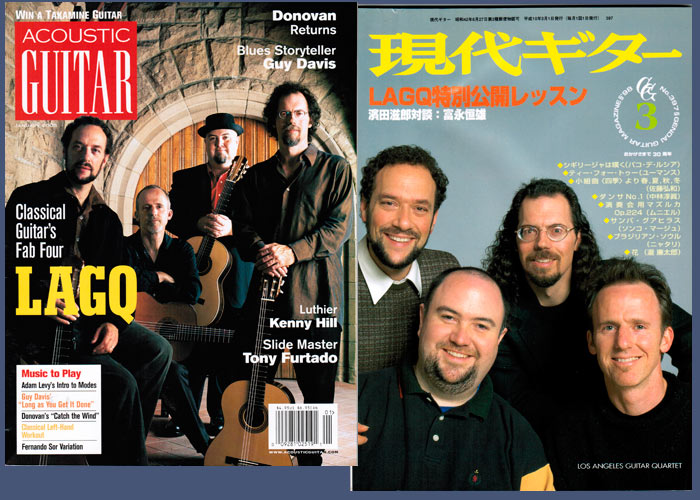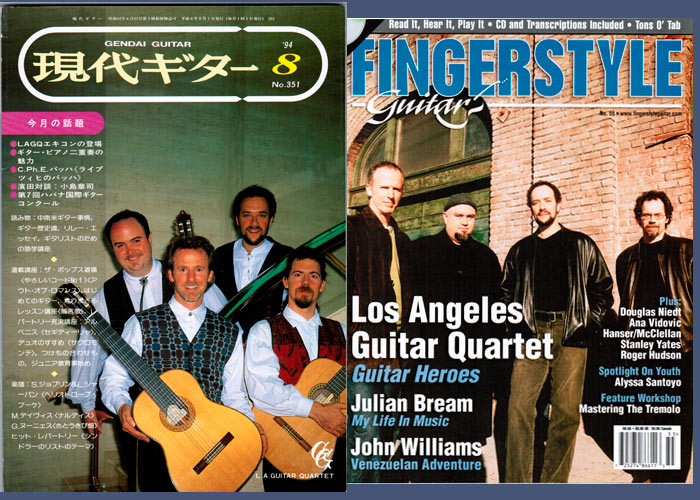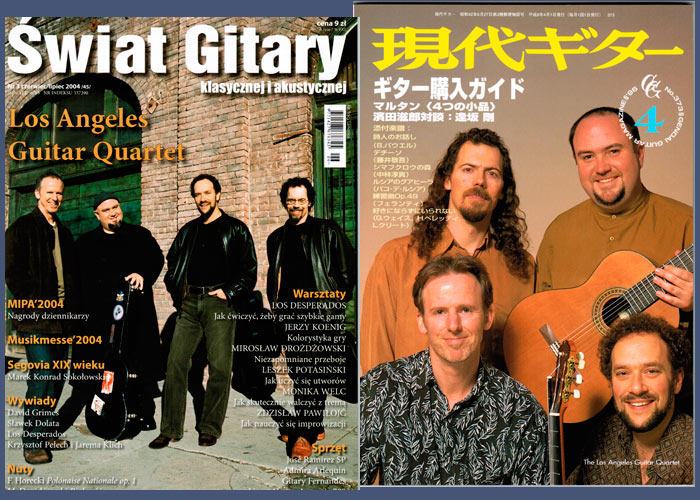 ---
Promo Flyers

A selection of our promotional flyers used by our booking agents.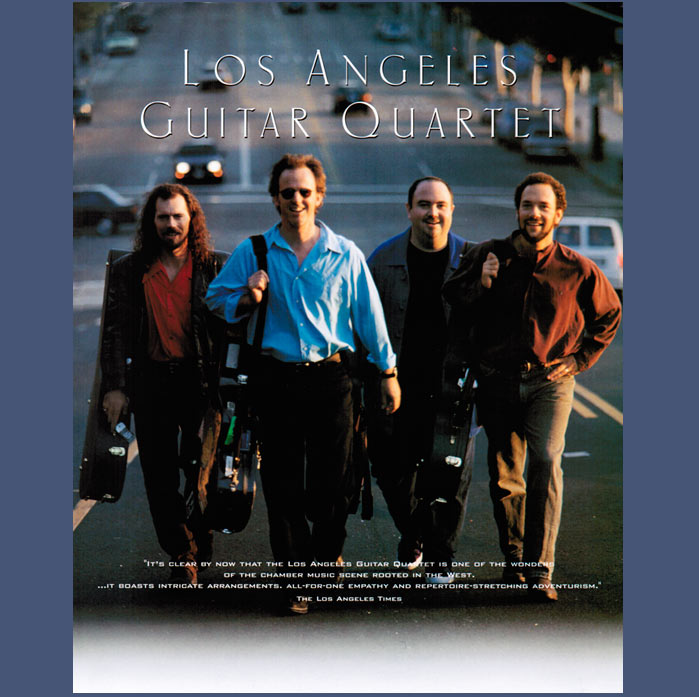 We had to walk down the middle of Vine Street in Hollywood to get this shot. Every time there was a break in the traffic we would hurry out and schlepp our guitars up the middle of the street until the lights changed and the traffic roared toward us.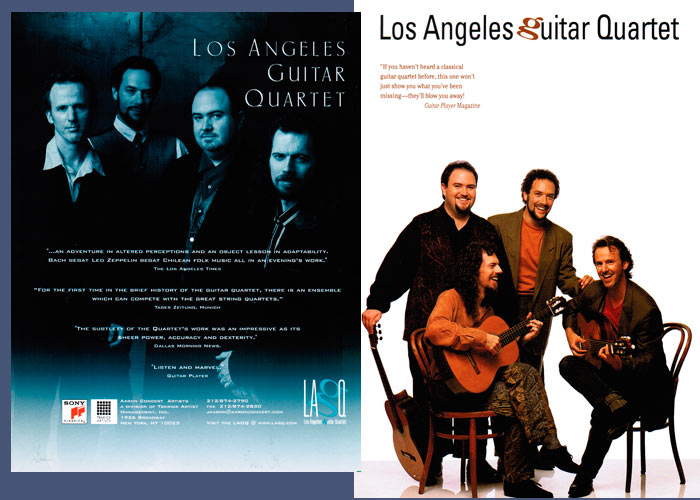 On the left, the back side of the Hollywood flyer. We always did a color shot for the front with us smiling, and a black and white on the back looking serious, dour and moody. The serious side was for getting concerts in Europe, because the Europeans disdain smiley photos and find color too cheery, we were told. I was never convinced that looking constipated in a photo signified you were a better artist, but there you go.
On the right an early flyer about the time we started recording for Delos. I miss those pants.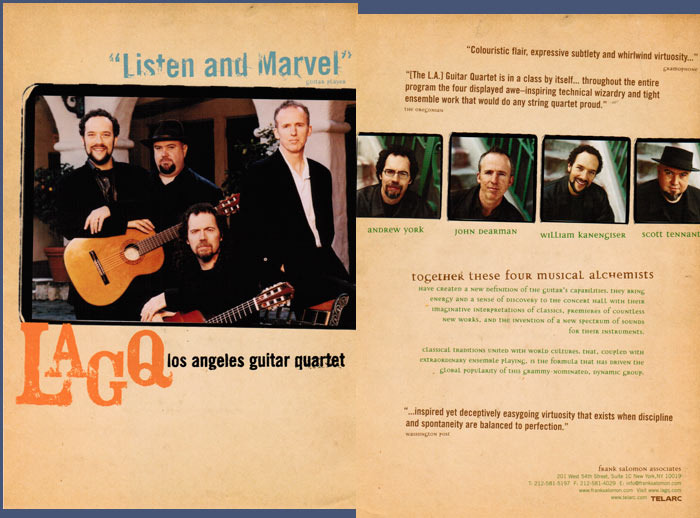 This flyer was from the time of Guitar Heroes, our GRAMMY winning CD with Telarc. We did a photo shoot in downtown Los Angeles, including a bunch of photos down in the L.A. river, which is really a giant concrete ditch. Kind of a interesting place for uber-urban photos though.

---
Japan

In the early 90's we began to tour Japan through a company called Sautille run by Takao Kasahara. He brought the quartet for several tours.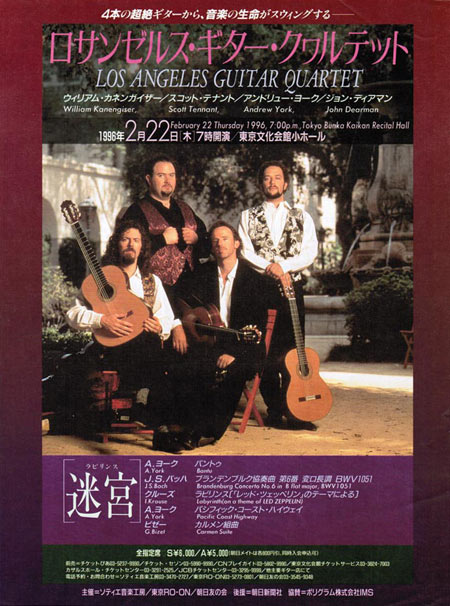 This concert flyer is from our third tour of Japan I think, in 1996, for a concert at Tokyo Bunka-Kaikan Hall.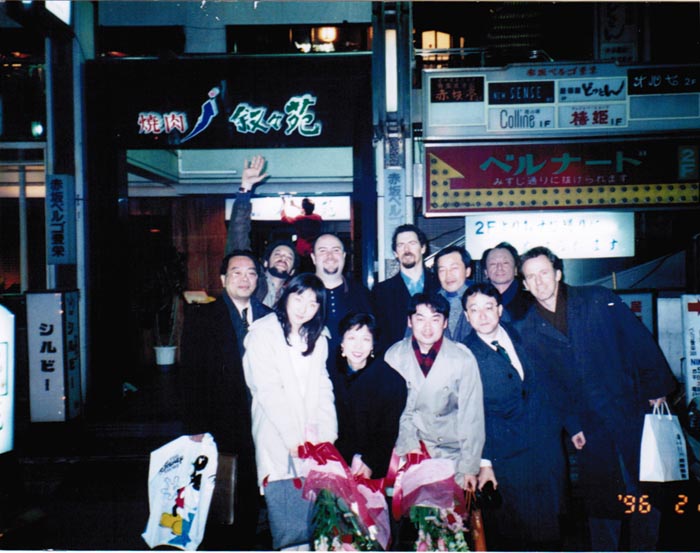 A photo in Ginza, probably from our first tour of Japan in 1992 or 1993. That first time we stayed in Ginza at the Ginza Dai-ichi hotel. Ginza is an upscale shopping area of Tokyo, and you can see in the photo who the shoppers are. That's Takao on the far left. Takao later became my manager in Japan, and has since brought me over to Japan for many solo tours.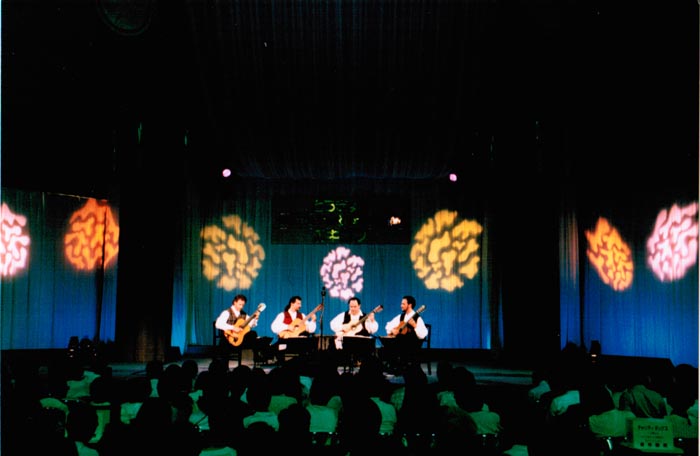 During one of our early Japanese tours, we played a special concert at the Tokyo train station. A stage was built and huge curtains were draped for a backdrop, with lights on them. Below are several more shots of this concert.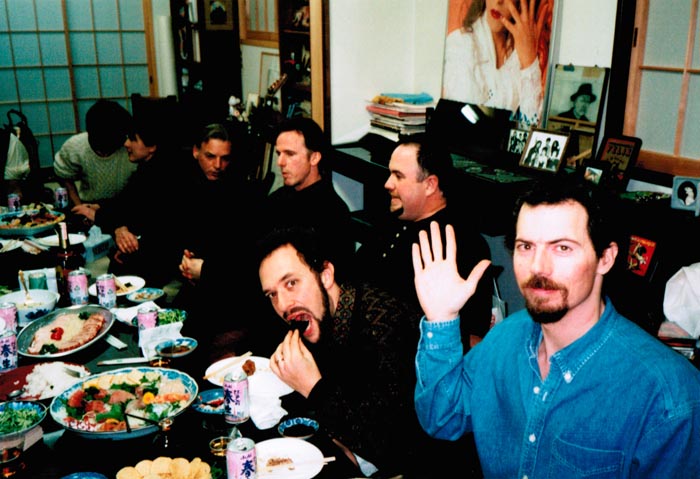 After a show it is customary to go out for a very good meal with lots of beer and sake. After eating such fresh sashimi and creatively prepared and delicious dishes in Japan, I find it hard to go to a garden variety sushi restaurant in the U.S. It just never seems good.
Below are various shots of after-concert events, and a few photos of the concert at the Tokyo train station.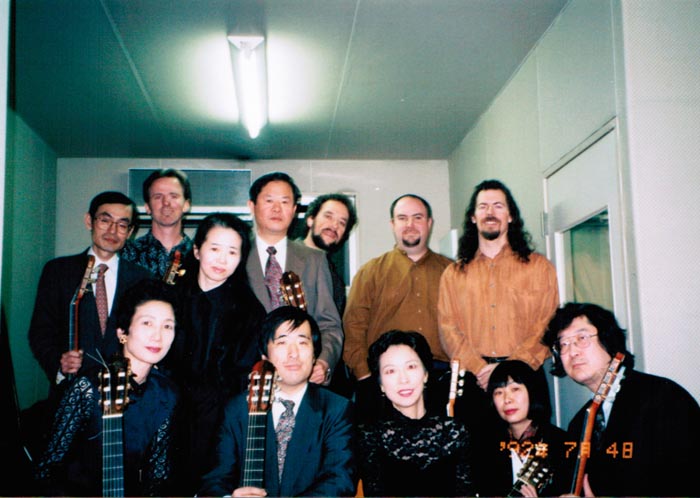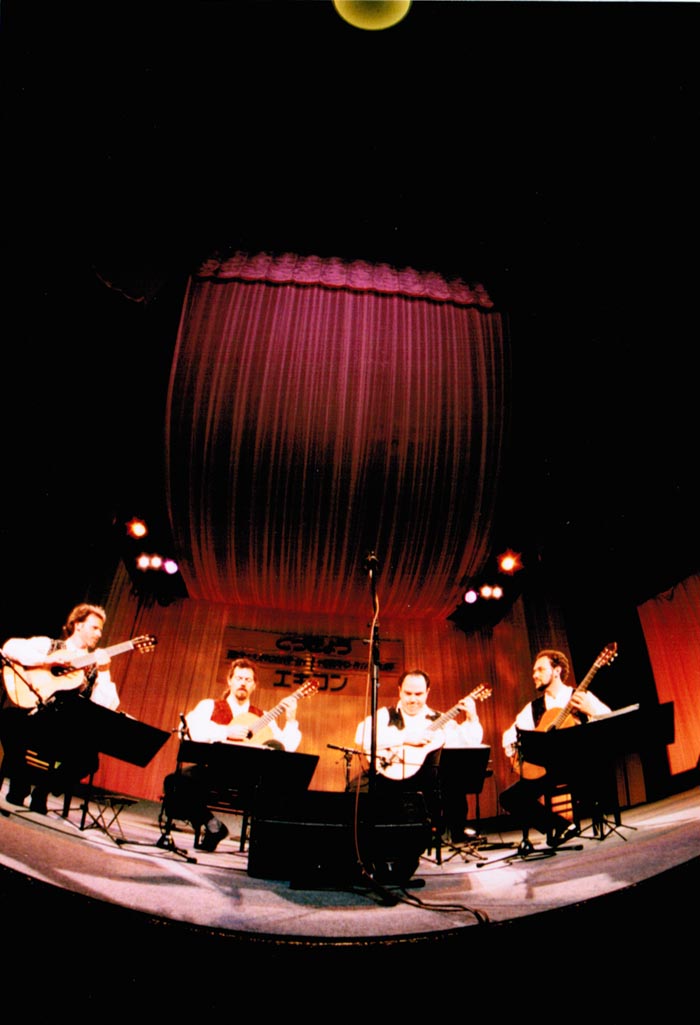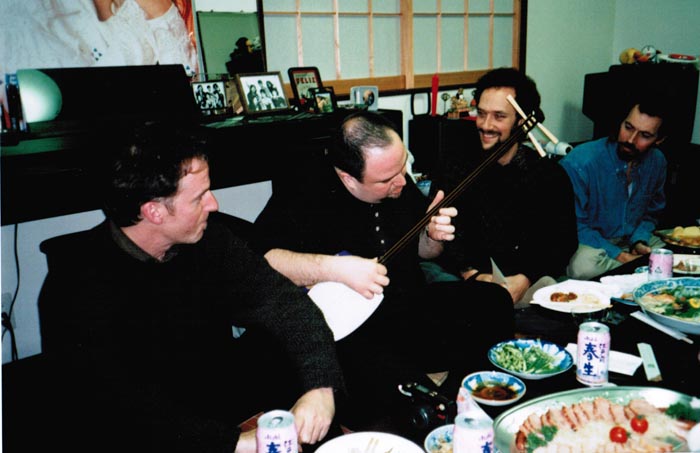 Scott playing shamisen at a dinner party at Harumi Nakajima's house, I believe.


John backstage in Tokyo warming up the pinks.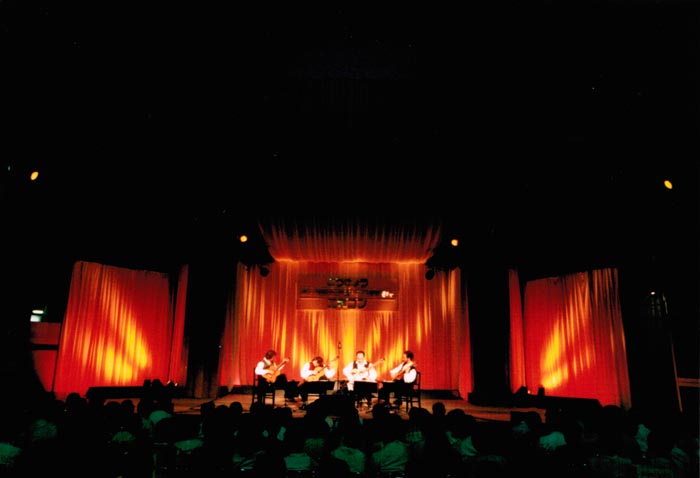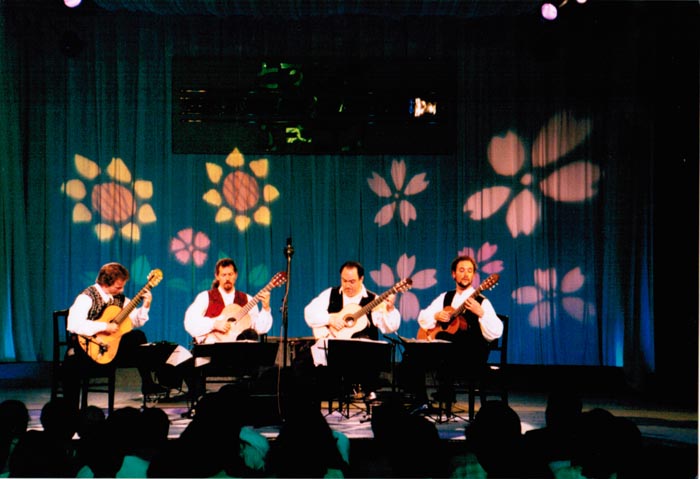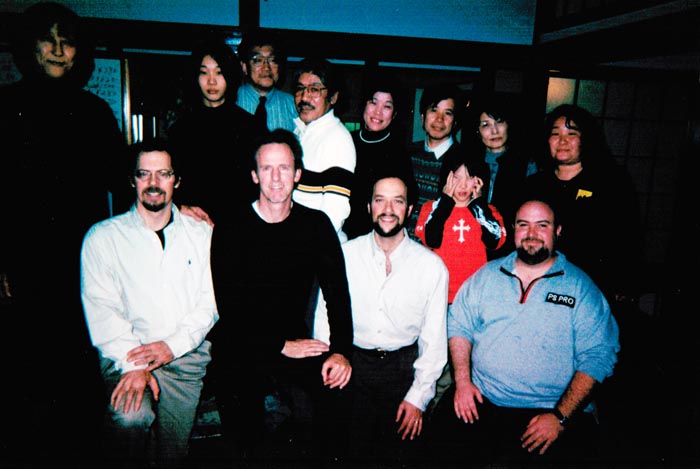 We met the excellent Japanese guitarist Dai Kimura when he was still a boy, during our early tours of Japan. This photo is from maybe our third tour, when Dai is now a teenager. On the far left is Dai's father, Yoshiteru, and Dai is next to him. Dai has gone on to be very famous in Japan, recording many CDs for Sony Japan. Dai and I have since worked together quite a lot for ten years. Sony commissioned me to write a solo piece for Dai, which I named "Moontan". Dai recorded this on one of his solo discs, and on another we recorded together my duet "Sanzen-in". When I left the quartet in 2006, Dai and I recorded a CD together of exclusively my compositions for Sony Japan, "California Breeze", and then did a tour of Japan together with a band to promote it. That was fun.

Osaka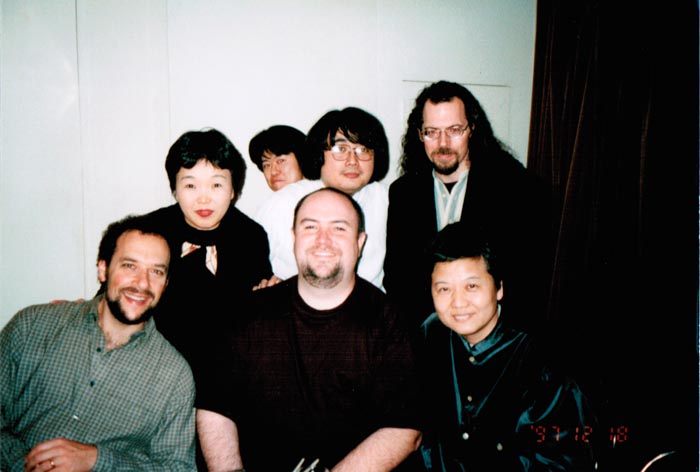 Osaka - Akemi Ono runs the Ono guitar school in Osaka, and she presented us in concert several times. Here is Ono-san on the bottom right, with some of her assistants above, Harumi and Tomoji.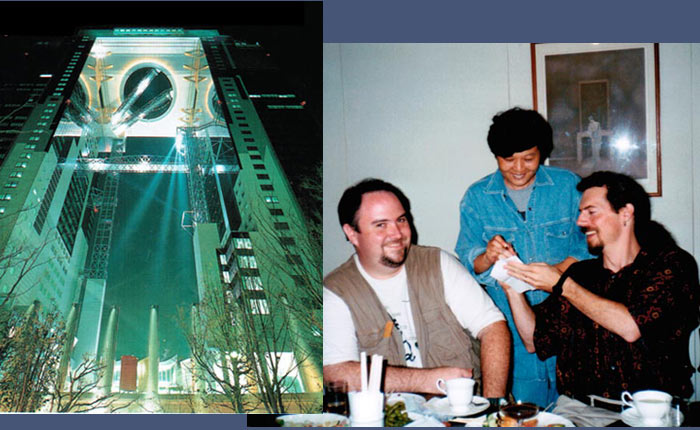 Osaka is home to the Umeda Sky building. The two towers are connected at the top by outdoor escalators, so you can look down unprotected from absurdly high. It is magnificent.
On the right are Scott and I in Akemi Ono's studio.

---
Benefit

In 1992 there was a benefit concert at the Amabassador Auditorium in Pasadena California, by far one of the finest halls in the United States, in my estimation. This special concert had an unparalelled list of performers from the guitar world. Never before have all these people been in the same room together, much less on the same stage in one night.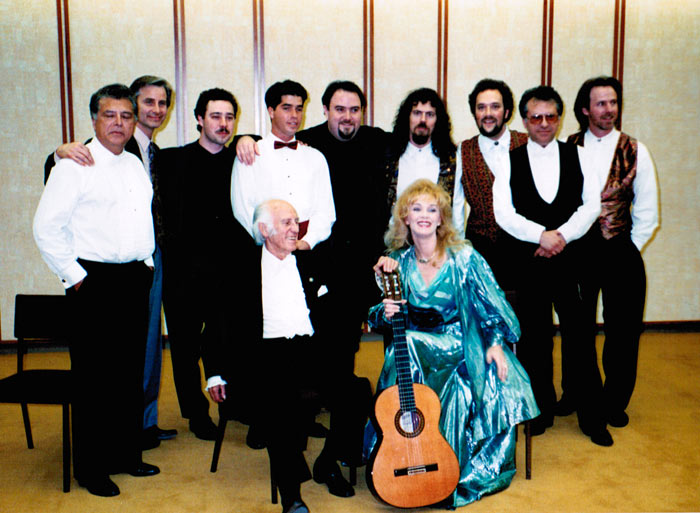 From top left to right is Celine Romero, Christopher Parkening, Larry Koonse, Celino Romero, Scott Tennant, Andrew York, Bill Kanengiser, Pepe Romero, and John Dearman. Seated are Celedonio Romero and Liona Boyd.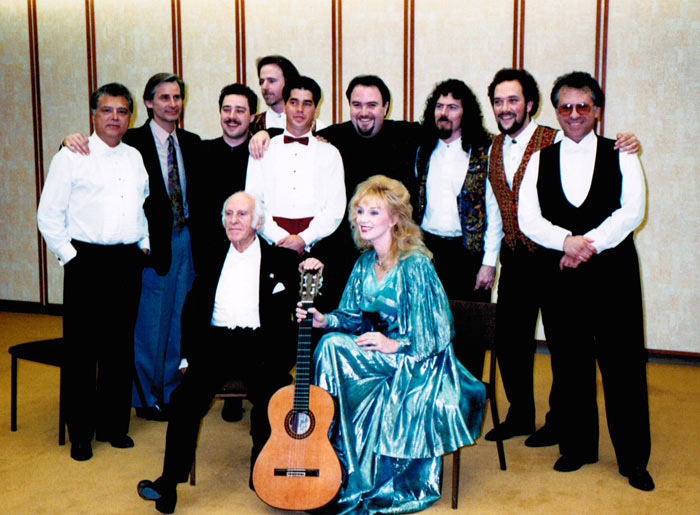 Same list of guitar stars but John has moved inland. These photos are a remarkable piece of guitar history.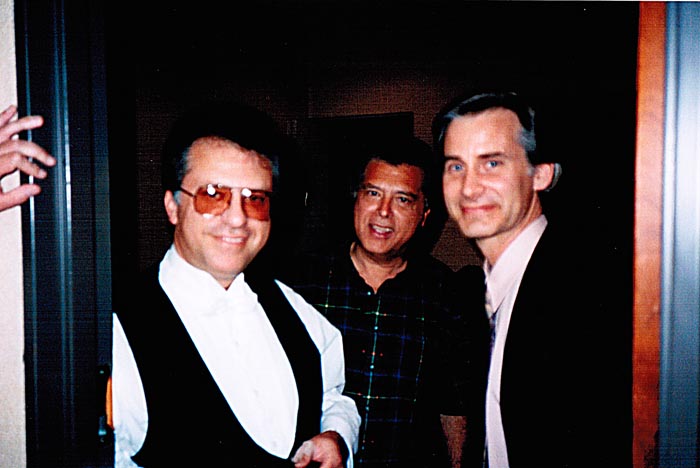 Pepe and Celine Romero with Christopher Parkening.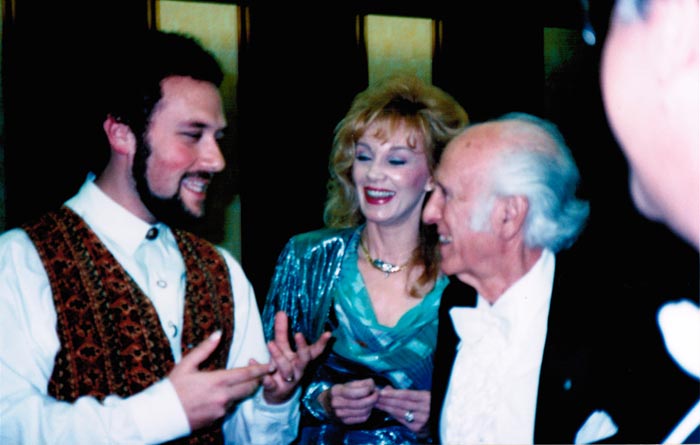 Bill Kanengiser doing his impersonations for Liona Boyd and Celedonio Romero.


Liona Boyd with Christopher Parkening.

---
Concert Programs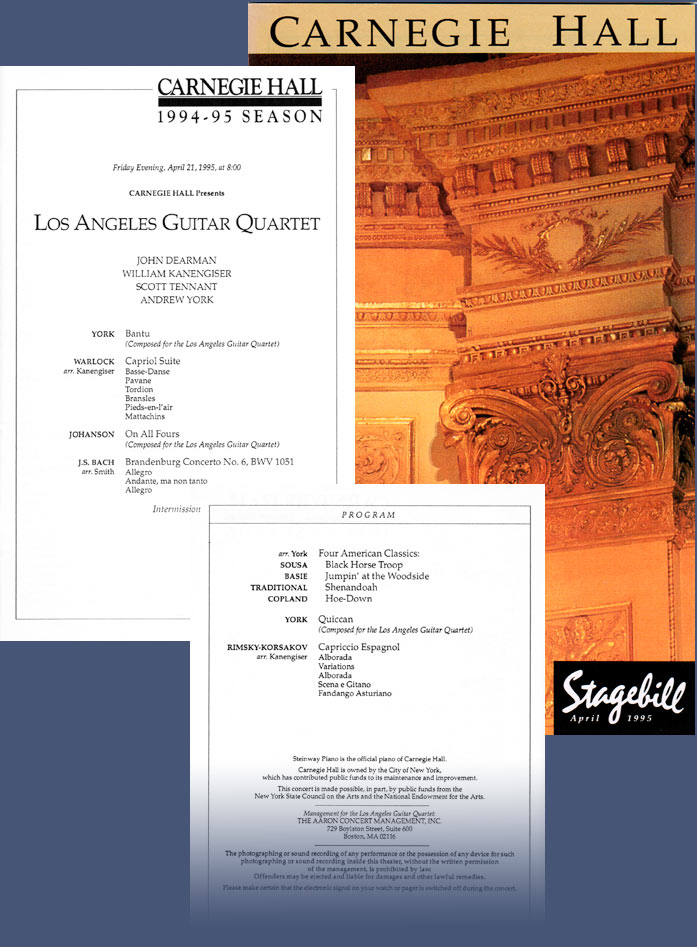 Our debut recital at Carnegie Recital Hall in New York City.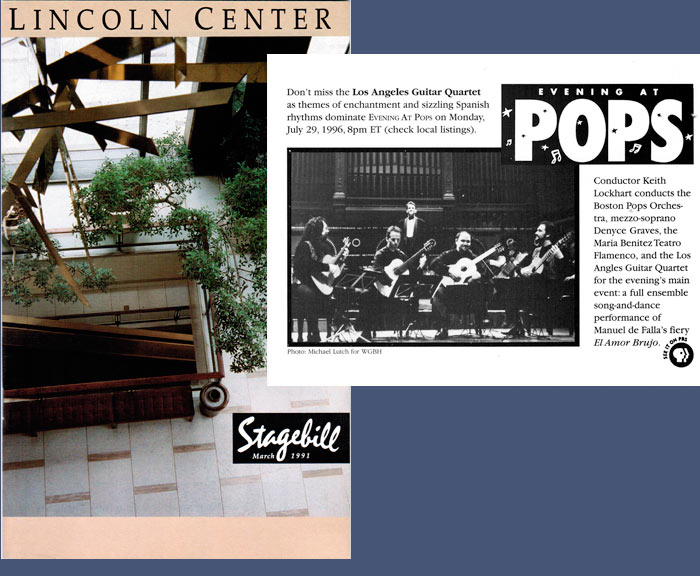 Lincoln Center in New York, and our TV appearance with the Boston Pops.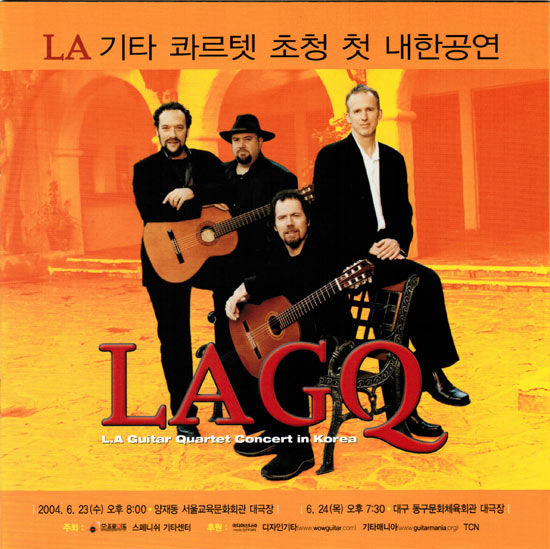 Concerts in South Korea.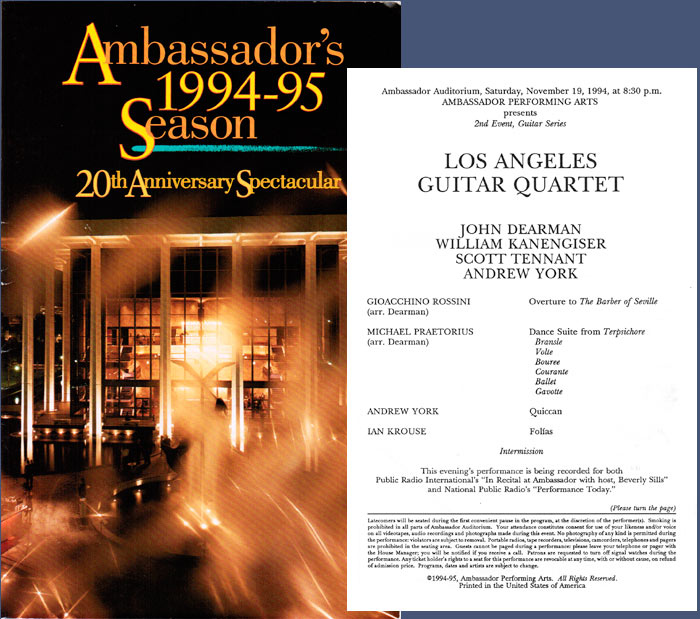 Ambassador Auditorium in Pasadena, California is arguably one of the very finest halls in the United States. The walls of the entire auditorium are lined with Brazilian rosewood, separated by strips of teak. Brazilian rosewood is what the finest guitars use for their backs and sides, and it is now a protected and rare wood.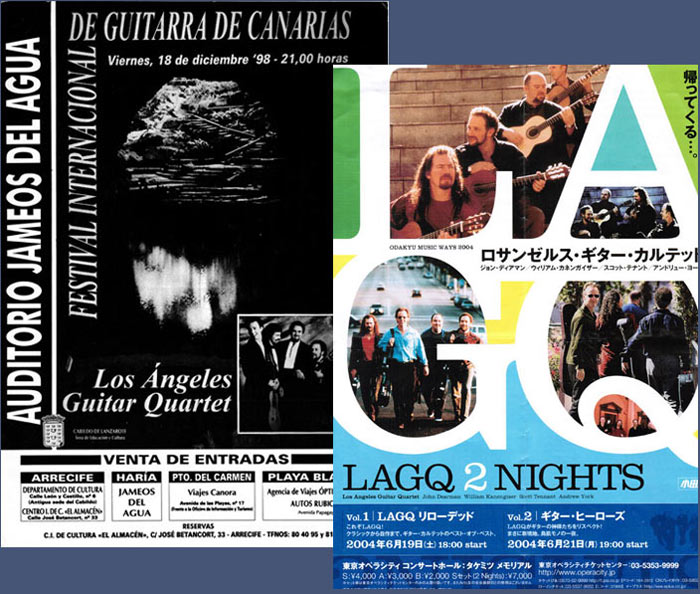 We played in the Canary Islands. I loved these islands. On Lanzarote our concert was given inside a cave. A stage was set up in a chamber deep in the cavern. Inside the cave there was a restaurant and bar as well, with pools of water glowing from colored lights - it was magical.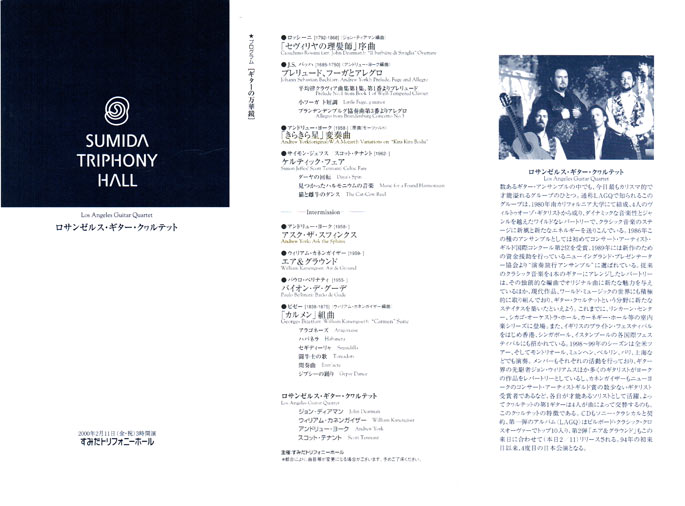 Triphony Hall in Japan.

---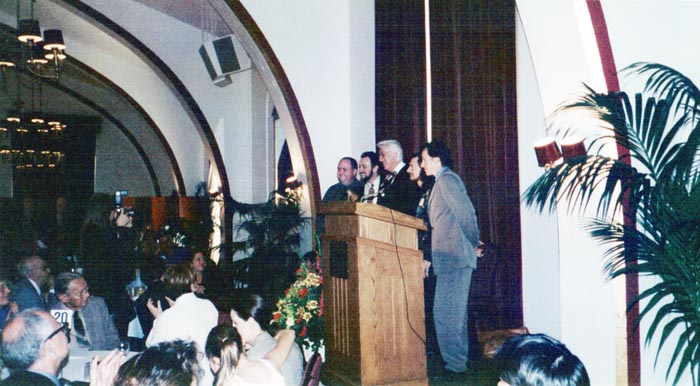 All of us were students at USC, and that is where the quartet springs from. In 1997 we were given the Alumni of the Year award, and here we are receiving it. I was also chosen to receive the Alumnus of the Year Award again in 2002 as a soloist, making me the only USC alumnus to receive the award twice.


USC magazine did a fantastic charicature cover of the quartet in 2002. The drawing was done by artist S. B Whitehead. The idea was to illustrate our eclectic individual backgrounds, which were responsible for the magnetism and success of our band.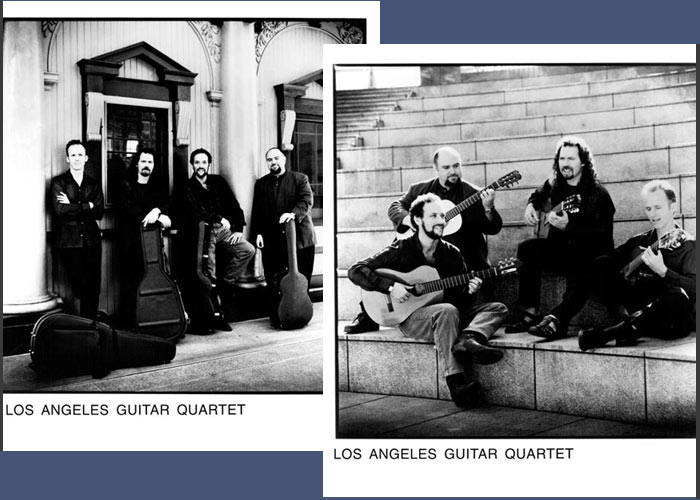 Here a couple of promo photos we used in the early to mid 1990's
---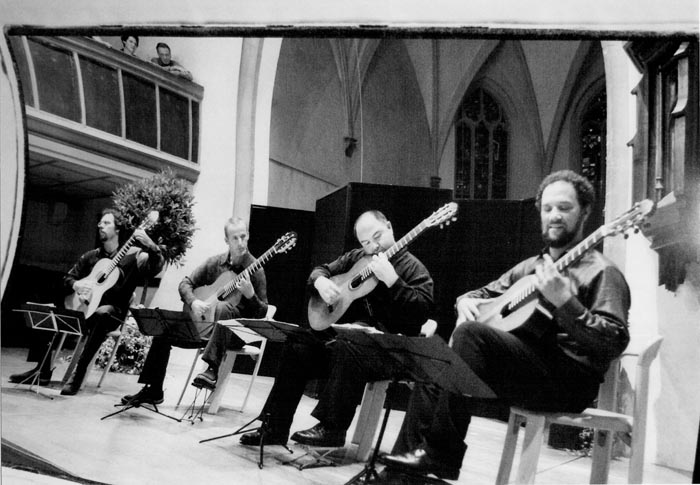 This photo of us in concert was shot by a fan in Nurtingen Germany.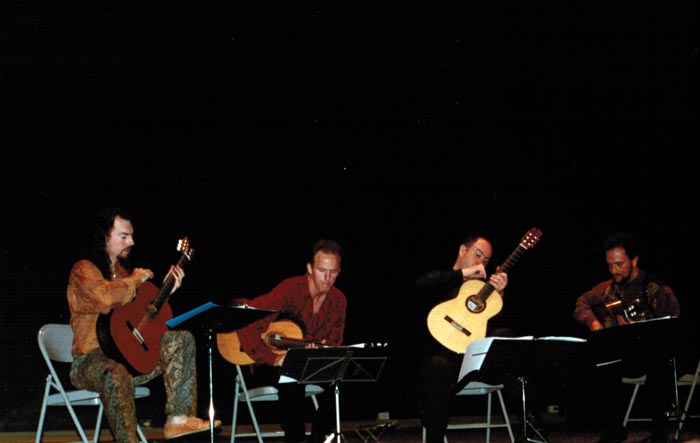 Somewhere in Europe, pre-concert.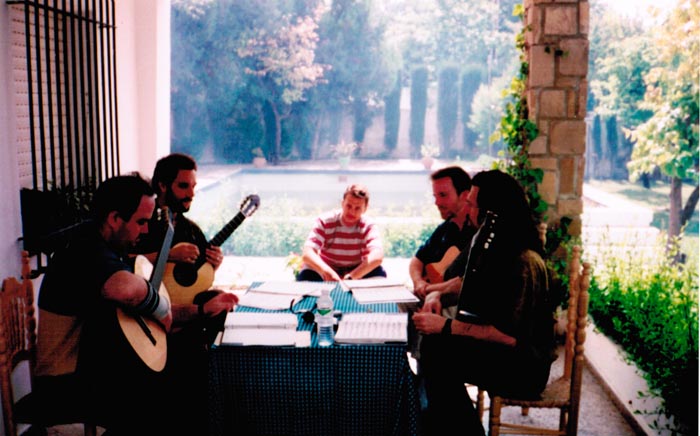 Rehearsing in Spain.

---
Filming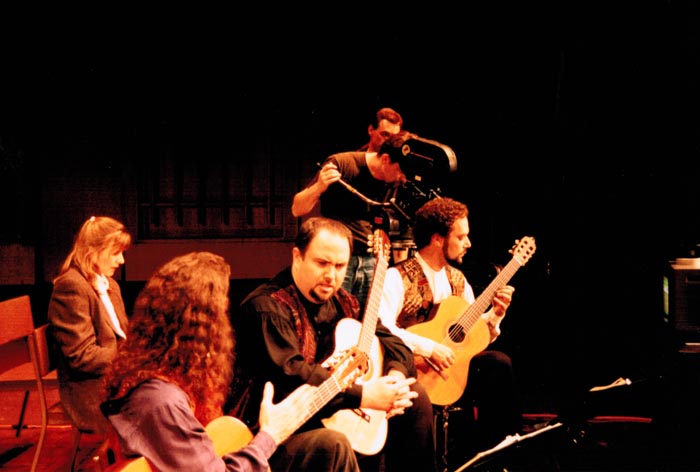 I mentioned the first video we filmed, which opened the door for us to Sony. Here we are preparing to film one segment on the stage of Ambassador Auditorium.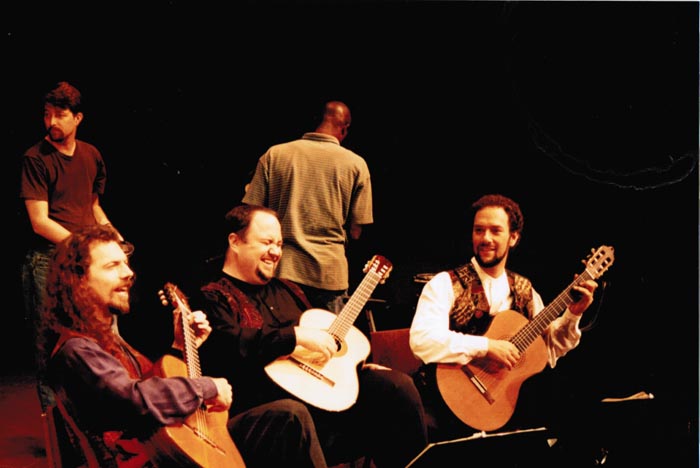 Cracking up Scotty with something I said. Filmmaker Sim Sadler is to the left of the frame.

---
Hong Kong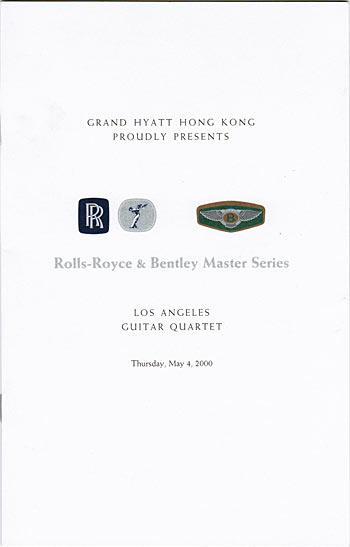 Rolls Royce and Bentley had a special corporate event in Hong Kong, and they flew us there to play for it. That is the reason we are posing in a Rolls Royce (or is it a Bentley?) for this photo.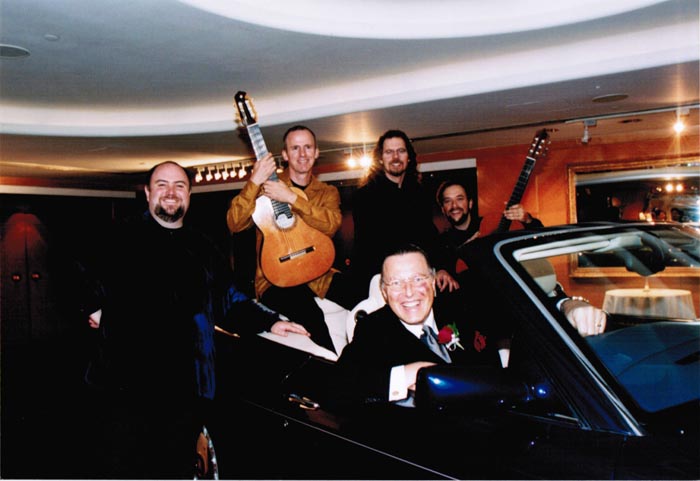 The concert itself was possibly the strangest one we had ever done. The room where the concert took place had seats on all four sides of a central square stage. Problem was, there were many bigwigs and VIPs in the audience on all sides, and any of them would have been offended or lost face if the group was not facing toward them. How to solve this? They made us play with one member facing each quadrant of the audience. So basically we couldn't hear each other at all. Absurd yet humorous what needs to be done sometimes to satisfy protocol.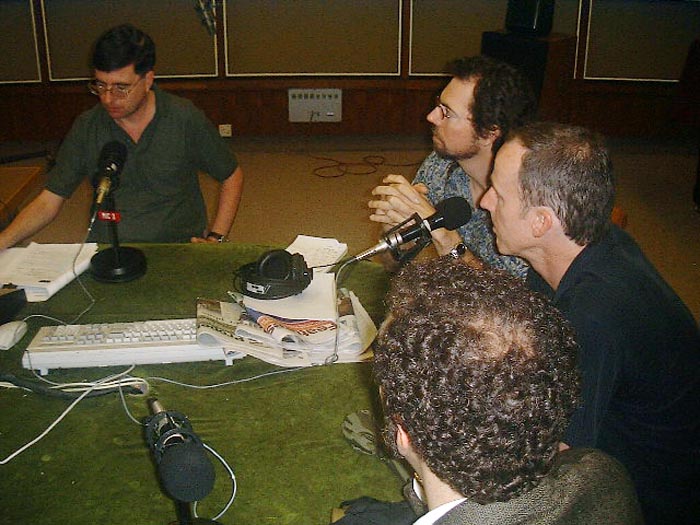 A radio interview for the Hong Kong four-quadrant gig.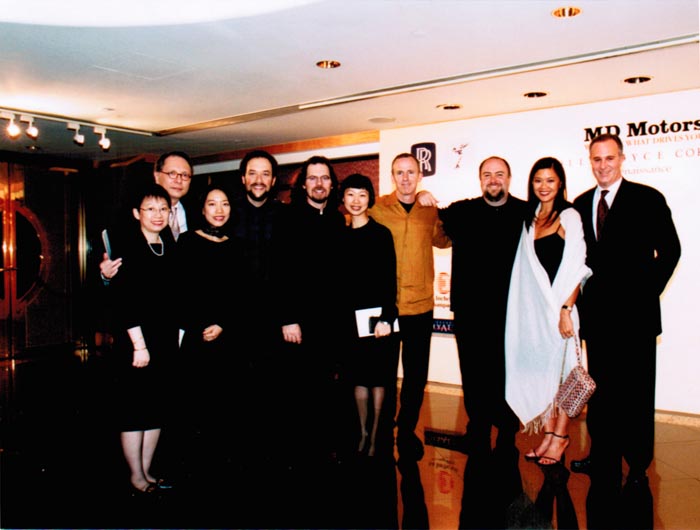 An after concert shot.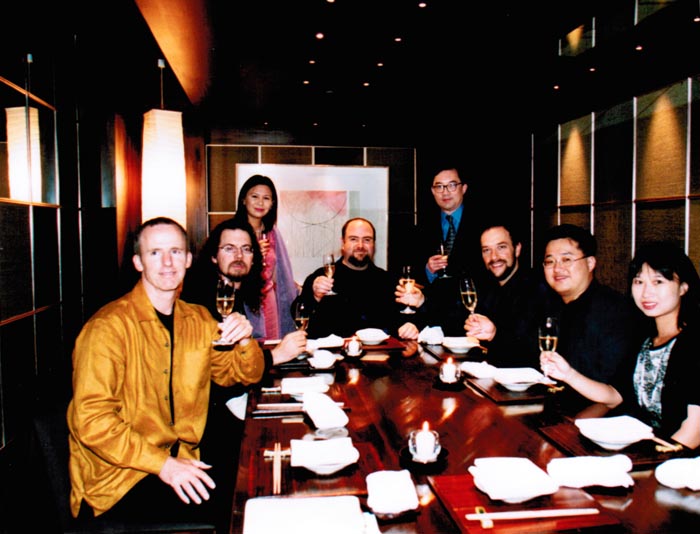 We stayed in possibly the best hotel of our touring life in Hong Kong, the Grand Hyatt. It had nine world-class restaurants within the hotel itself. Our rooms were high up in the skyscraper and looked out on the bay. Touring as a classical musician is rarely glamorous, but it has its moments once in a while.

---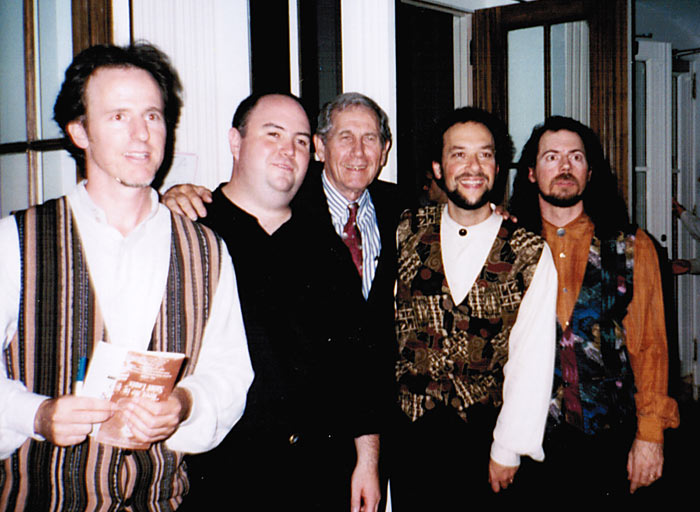 Chet Atkins with the band. In 1996 we played at the Guitar Foundation of America festival in St. Louis, directed that year by John McClellan. Here we are with the legendary Chet Atkins, a very special moment.

---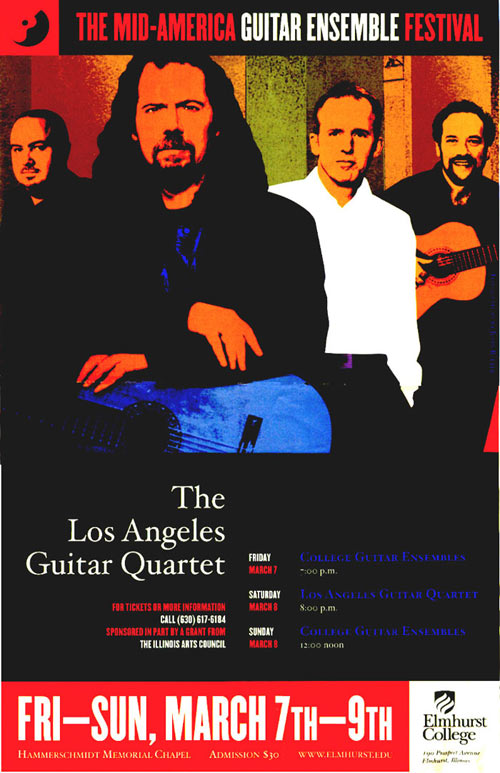 A flyer for a concert in Chicago at Elmhurst College.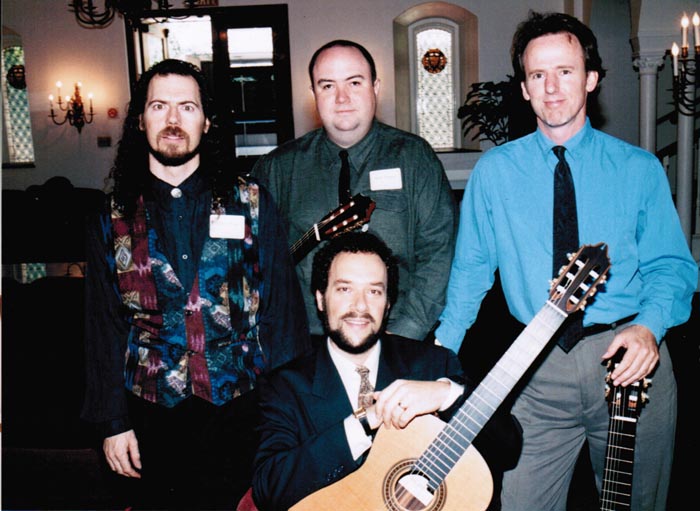 Wearing suits and ties? I don't remember why, but perhaps it was in Columbus Georgia for a special concert at an historic library and museum.

---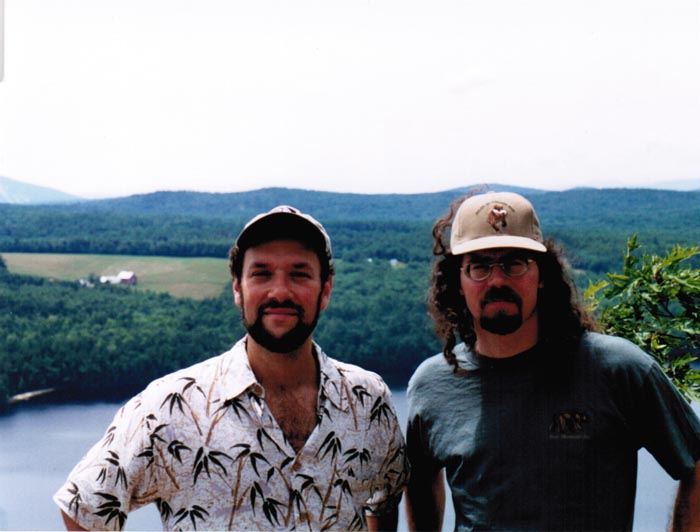 We had in concert in Portland Maine, and we all stayed at the cabin of our friend Bob Schiffman for some relaxation time. Some of us took a hike up a local mountain, and here are Bill and I up on top.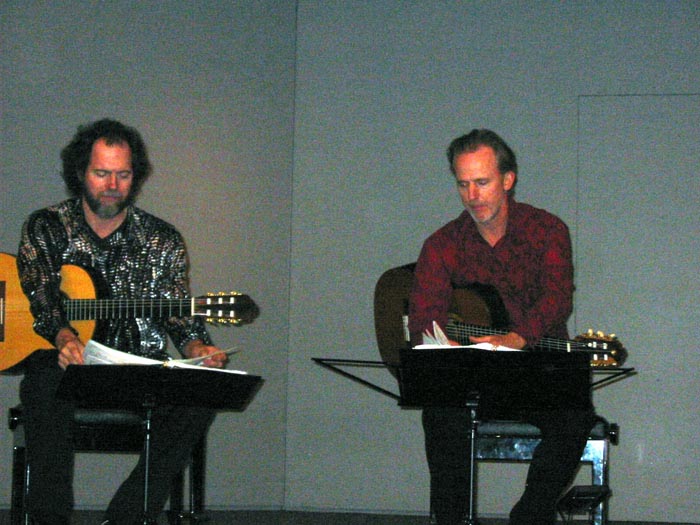 Now we are approaching our final days of this incarnation of LAGQ, twenty years later. This is John and I onstage pre-concert at one of our last concerts together as a group, in Aachen, Germany.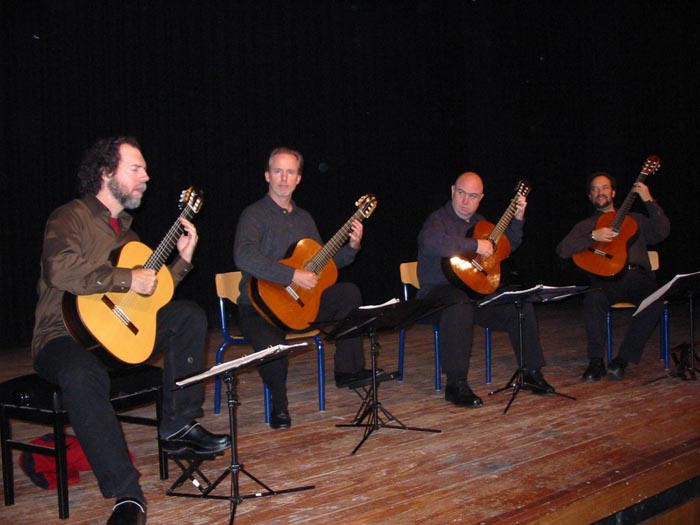 Preparing for our penultimate concert in Lohne, on this final tour in Germany.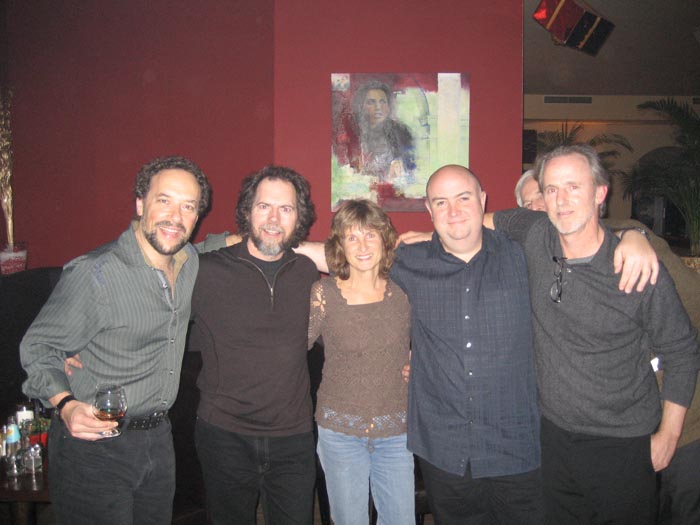 The quartet with Renate Weiss. She used be one of the directors of the Nurtingen guitar festival, and brought us there many times.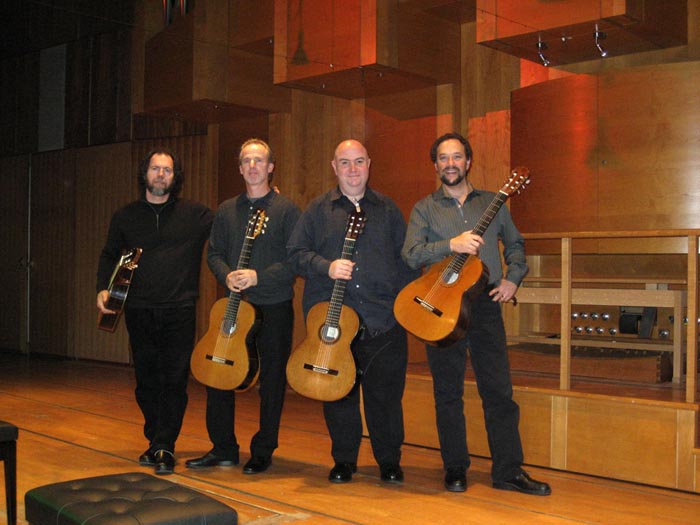 I consider these our goodbye photos. They are from our final concert together. The first time we played here was in 1992, and our final concert as a group was on this same stage in 2006.


A nice parting shot of the four of us on the stage of the Hochschule in Munich, Germany..


---
Many people have asked me why I willingly left such a successful group. It was simply time; and it was the right choice for me on multiple levels. Here is a letter I wrote for public dissemination, which was posted on the LAGQ website for a while.


---
---
An Open Letter to All LAGQ Fans, from Andrew York


Some of you may have heard a rumor that I am leaving the group. It's true! Before speculation breeds globs of blogs and gossipifiers, I'd like to let you in on the story.

I've known these guys for twenty-three years, been playing with them for twenty, and then I officially joined the group sixteen years ago. LAGQ has been a huge lifetime and artistic experience for us. Most everything we hoped for has come true; major recording deals with labels like Sony and Telarc, two GRAMMY nominations and then a GRAMMY award. I think we've toured in maybe twenty-five countries together, played more concerts than I can remember, and recorded more than ten CDs. Beyond all that though, we've been like brothers. Naturally we've had disagreements, even shouting matches, but at the end of the day we always went out together for a nice meal and glass of wine, and we continue to enjoy each other's company to this day. I'm proud of what we've accomplished, and it's been one of the great experiences of my life to work with Bill, Scott and John. They are not just amazing musicians, but exceptional people as well.

So why am I leaving then, you ask? More than a year ago I began to realize that I craved more time for my personal artistic projects. Simply put, I'm compelled to sail out into unknown waters to let my creativity take me where it needs to go. In March I told the boys that I'd be leaving at the end of this year, and they understood. They have since been searching for a someone to replace me, and have recently found the player and musician they were looking for in Matthew Greif. We have known Matt for many years. Matt and I have even recorded together, and I respect his musical abilities very much. So please, everyone, welcome Matthew Greif into LAGQ!

Thanks to all our fans for their support of our music over the years. We really accomplished something new, and I know the group will continue to inspire and delight people all around the world. I offer a heartfelt toast to LAGQ's continued success!

Sincerely,

Andrew York


---
---